Berkley Lightning Rod Review – Budget Priced Spinning Fishing Pole
It seems that the Berkley Lightning Rod Spinning model tends to go out of stock often.  If it's currently out of stock, be sure to check out our list of the 11 best spinning fishing rods.
We appreciate your time checking out our Berkley Lightning Rod Spinning review.
If you've been fishing for a while, chances are you're familiar with the Berkley brand. Apart from being outstanding designers and manufacturers of quality freshwater fishing rods, they are also exceptional producers of quality fluorocarbon fishing lines.
One of the main reasons that make Berkley an outstanding company is its clear resolve in creating new and quality products at discounted prices. Over the years, the term Berkley has been associated with excellent fishing rods.
In this article, we are going to delve more into the Berkley Lightning Rod Spinning to understand the features and benefits it has to offer to us.
Berkley Lightning Rod Overview
There are a lot of high-end fishing rods being sold in the market. Still, the total comfort in fishing highly depends on a few combinations of some criteria such as grip, lightweight, durability, easy moving, control, and fatigue, among others.
The Berkley Lightning Rod Spinning provides you with a nice combination of all these features while maintaining a low price tag.
There are a number of high-end spinning rods that are exceptional. We have put together a list of the top 11 spinning fishing poles that you can read here. However, many of these rods may be out of your budget range and you're looking for something that's more pocket friendly.
This is where the Berkley Lightning Spinning Rod comes in.
For the price, it's one of the best finesse rods I've used. It feels and performs just as good as many of the more expensive rods I've tried.
For the price tag, you would be hard-pressed to find another well-rounded spinning rod like it.
I will briefly share what I enjoyed most about this fishing rod.
The Berkley Lightning Rod Spinning features a rubberized cork handle, which feels perfect in your hands. The rubberized cork increases the rod's longevity as it ensures it does not chip or crack. Unlike other cheaper rods, the cork does not have those deep pits.
However, I did notice while using the rod, that the cork tends to get dirty pretty quickly. It's not hard to clean so it's not something that should discourage you from getting this rod, but it is something that stuck out to me.
When I first used this fishing rod, I was blown away by its unique sensitivity. After using it for a summer bass fishing, it left a positive mark on me.
During the summertime, water frequently flirts with high degree temperatures making bass fishing difficult for most fishing rods. When you finally get a bite, it is extremely hard and subtle to detect.
However, the Berkley Lightning Rod is designed to detect bites easily. During my fishing trips, I could feel fish nip at my wacky rig on the tip before they fell for the hook.
This high sensitivity assisted me a lot to prevent premature hook sets that could have cost me great chances of catching some nice fish.
During my experience with this rod, I was pretty shocked by the rod's lightweight nature. Others I've interacted with who have also used this rod have been equally impressed.
If you could blindfold one of your friends and put this rod in one hand and another rod that is a bit more expensive on the other hand, chances are high, they will not be able to tell the difference.
Again, it is hard to find a fishing rod that feels this great and well balanced in the inexpensive price range.
For those who have gone fishing with me will tell you that I never go easy on my fishing rod.
From frequent evening fishing expeditions to typical guides, I give my equipment all it can take, and after more than six months of usage, I can confidently say the Berkley Lightning Rod is a workhorse.
It is outfitted with stainless steel guides with aluminum oxide inserts that help it to hold up well.
So far it's held up to being accidentally stepped on, transferred from truck to boat multiple times, and dropped on a gravel road, but despite the abuse, the fishing rod has managed to hold up beautifully.
If you're in the market for an all-purpose spinning rod that can handle what most people can throw at it, I'd definitely suggest taking a look at the Berkley Lightning Spinning Rod.
I tested the fishing rod, and I did not find much that it cannot do. Whether you want to drag a big worm in the water, sling a spinnerbait, pitch a jig, or skip ChatterBaits, this fishing rod does it all.
Plus, with a price this low, even if you decided you'd rather stick with one of your higher-end rods, you're not being put out much money for a rod that should work great as a backup.
Closing and Final Thoughts
I like the
Berkley Lightning Spinning Rod
and if you're looking for a budget rod that can handle the action than I think you would too.You're not going to be turning any heads when you pull this out to fish with, but it is up to the job for pulling in your catch.It's a solid spinning rod that holds up well to plenty of abuse and that positively surprised me. If your budget is keeping you from going after a higher-priced rod or you're looking for a great backup spinning rod than the Berkley Lightning Rod Spinning is right for you.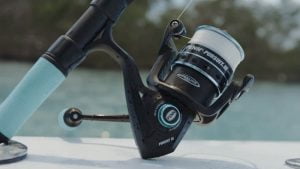 If you're looking for an upgrade to a familiar reel. PENN's Pursuit 3 is the spinning reel to check out. PENN took the ground foundation of the Pursuit 2 and upgraded the spinning reel making it even better. The Pursuit 3 is a spinning reel priced incredibly well for everything that it offers. Read our full review here.
Read More »