Best Fluorocarbon Fishing Line 2022 – 11 Invisible Fish String Reviewed
Numerous pieces of equipment must work together to make your fishing trip a success. You've given special attention to your rod and reel to get the right ones for the type of fishing you're doing and bought special lures and bait.
When it comes down to it, though, the most critical weapon in your arsenal is a good quality fishing line.
Fluorocarbon lines are more expensive than typical monofilament lines.
Monofilament is made from a single strand of material, usually nylon, and is the most common line you'll see used.
Fluorocarbon, on the other hand, is made of polyvinylidene fluoride and offers a few perks over monofilament.
We like monofilament due to its strength and how sensitive it is. But, monofilament has a lot more stretch than fluorocarbon. This lack of stretch means that when a fish bites, there's less room for the line to react before you feel it.
When you can feel what's happening under the water, you're much more likely to get that fish up.
There are some other great perks of fluorocarbon lines like invisibility underwater and the fact that they sink rather than float. If you're fishing in deep water, you don't exactly want your hook floating in the top few feet of water.
If you're looking for something tough and reactive, we highly recommend using fluorocarbon fishing line. Check out our favorites, so you're ready for that next trip out on the water.
Top Fluorocarbon Fishing Line Pick
As far as fluorocarbon fishing lines go, our favorite is this one by Sunline. It is almost invisible underwater while being thin and very sensitive. We like the combination of strength and suppleness.
Sunline gave their Super FC Sniper line a triple coating of resin to make it feel better when you're handling the line.
One of the best features about the Super FC Sniper fluorocarbon line is how well it holds knots and sinks quickly due to its high specific gravity of 1.75. Sunline's fluorocarbon line has become a preferred name for bass fishing thanks to these qualities.
Even better, it doesn't tangle on the spool and give you a bird's nest to stare at while you contemplate throwing the whole thing in the lake and starting over.
With the Sunline Super FC Sniper fluorocarbon line, we feel confident that it provides the total package for applications like bottom bouncing and using crankbaits.
It casts like a dream, and we like that the diameter of the line is the smallest per pound of test weight on the market for fluorocarbon.
It's lightweight and excellent for bass fishing.
Overall, this is the best fluorocarbon line on the market today.
What makes the Super FC Sniper our favorite Fluorocarbon fishing line?
Seaguar's Blue Label fluorocarbon is a solid choice for fishermen who need a top fluorocarbon line available in large sizes. You can buy up to 80-pound test with the Blue Label, and it is well suited to withstand the rigors of saltwater environments.
As we'd expect from any decent fluorocarbon product, the Seaguar leader sinks quickly and is nearly invisible underwater.
Because it is a leader, not the main line, it is stiffer than our favorite line, the Sunline Super FC Sniper fluorocarbon line. Leaders do have some advantages, however, because they are treated to be extra resilient against abrasions.
You may find that you like using a leader like the Seaguar Blue Label on your line because of that abrasion resistance. Nicks in fluorocarbon fishing lines reduce the underwater invisibility because light hits the cuts in the line differently.
Maintaining invisibility will help prevent the fish from becoming line-shy and avoiding the area.
What makes this fluorocarbon leader stand out:
If you liked Seaguar's fluorocarbon leader and were hoping for a fishing line from them, here you go. The AbrazX fluorocarbon line from Seaguar has a lot to offer for a fairly reasonable price.
What we like about the AbrazX line is the unique approach that Seaguar has taken to spooling the line to prevent twists. They lay it on its side, and it never crosses.
Anything that keeps twisting at bay is fine in our book.
You get some other good things from the Seaguar line as well, such as its abrasion resistance and strength. We like the reactivity of the line due to its lack of stretch, as well as how quickly it sinks.
The line can get a little pricey, depending on the type you choose, but it's definitely well worth the money.
What makes this fluorocarbon leader stand out:
So the Yo-Zuri fishing line isn't just a fluorocarbon line, as its name suggests. It also utilizes nylon in the fiber to get some of the benefits associated with nylon that you get from monofilament.
This can be a good thing – or not – depending on the user's preferences.
As for us, when we're talking about fluorocarbon lines, we want an abrasion-resistant line with little to no stretch.
While the hybrid fishing line from Yo-Zuri definitely delivers resilience, it is not quite as sensitive as we would like a fluorocarbon to be.
We were also a bit underwhelmed with just how visible the line is underwater.
What we do like about Yo-Zuri's line is that it spools and casts nicely, thanks to the silkiness of the nylon/fluorocarbon blend.
It's an easy line to handle and works well for many different applications.
We also like how affordable the price is for hobbyists who don't want to spend a lot for a weekend of fun.
What makes this fluorocarbon leader stand out:
You'll notice this name keep popping up, and for a good reason.
This fluorocarbon fishing line from Seaguar is another solid product from the brand. It performs well in spinning or baitcasting reels and has all of the traits we expect from fluorocarbon lines.
Since we've already been acquainted with Seaguar more than once, we won't go into too much detail about them.
The Invisx fluorocarbon line gets the same love as their other lines with their Level Wind process and resin coating. Like their other lines, it is invisible under the water, has a soft feel, and casts well.
Where we think the Seaguar Invisx fluorocarbon line stands out from its brethren is how small the diameter is and how flexible the line is. Remember, fluorocarbon lines tend to be pretty stiff.
It tends to be easier to knot and to hold them better compared to some of Seaguar's other fluorocarbon lines.
What makes this fluorocarbon leader stand out:
P-Line's fluorocarbon fishing line is a good product and easy for us to recommend, especially for the price. We like that the line doesn't have much memory and is very sensitive to bites.
You get a good bang for your buck with this line, and we think it's awesome for spooling on your older kids' reels.
The P-Line fluorocarbon line holds knots very well, which is a great perk for us.
It has the expected invisibility that characterizes fluorocarbon fishing lines.
It's also worth noting that, unlike some other inexpensive lines, it doesn't break very easily.
It's a good line for fishing for trout or crappie.
Our biggest complaint with P-Line's fluorocarbon line is the amount of twist we experienced when using it on a spinning reel. You can let the whole spool out behind your boat and reel it all back in to try to correct the issue, but that's a lot of work for an issue that can be avoided with a little bit better quality line.
What makes this fluorocarbon leader stand out:
The Vanish fluorocarbon line from Berkley is another budget-friendly option on our round-up. There are a few things that we really appreciate about the Berkley line, other than the price.
Berkley's fluorocarbon line is abrasion-resistant. We like the water-resistance and, of course, the underwater invisibility. It has the minimum sensitivity we expect from fluorocarbon lines. It does help absorb some shock during hookset, as well.
All in all, it's a solid product, but it does have a few downsides that we have to make a note of.
First of all, getting the Berkley fluorocarbon line to hold knots can be kind of tricky. Now, we're no rookies over here, and a line that gives us trouble with knots is cause for consideration.
Also, we found that the Berkely six-pound test broke a bit too easily. We like a bit stronger line, like the Sunline fluorocarbon line, offers, instead.
With all of that said, we think that inexpensive, decent fishing line is a good solution for kids and beginners. You don't need the expense that high-quality lines can incur when you're just starting out.
What makes this fluorocarbon leader stand out:
Another bargain buy, Stren's FluoroCast fluorocarbon line performs pretty well for a less costly line. While it doesn't offer the dependability of our favorite, it is a pretty good choice, again, for beginners and kids.
The FluoroCast line is pretty stiff, although they claim that it's as supple as monofilament. We don't really agree with that assessment, but a stiffer fluorocarbon fishing line is fine with us. That contributes to the reactivity of the line to bites. We like to feel what's going on, so we don't count that stiffness as a demerit.
We do like that the Stren line casts pretty well and has low memory.
What we don't like is that it breaks more easily than comparable models. Again, though, this is one of our less costly lines, and you just can't get perfection at that price.
It performs well enough for small to medium-sized fish that we're comfortable recommending it for some light fishing.
What makes this fluorocarbon leader stand out:
Another offering from Berkley, we have their Trilene Professional fluorocarbon fishing line.
First, the Trilene fluorocarbon line is strong. It has a high strength-to-diameter ratio that makes it tough to break even when you strike pretty hard.
It also casts well, has low memory, and is invisible underwater.
We think this one is a nicely dependable choice from Berkley.
If you spool this one incorrectly, you'll struggle with bird's nests and twisting. Take the time to do it right, and you shouldn't have issues with the Trilene fluorocarbon fishing line.
This line also had good knot holding traits.
What makes this fluorocarbon leader stand out:
The Spiderwire EZ Fluoro fluorocarbon line has a place on this list because it is a crazy cheap fluorocarbon line.
We like that it makes fishing more accessible to all budgets. Not everyone has a huge budget for their hobbies, and we get that.
Now, as far as the function of the Spiderwire, we won't give you any illusions, it's just okay.
It has a bit too much memory, can twist and kink pretty easily, and we wish it had better castability.
Because it can break quickly, we don't recommend it for anything big.
Stick to small pond fish.
Before you think the Spiderwire is all bad, we do have to commend them for how well it holds knots, as well as it's lack of visibility.
These are, of course, two big characteristics we look for in fluorocarbon fishing lines.
What makes this fluorocarbon leader stand out:
Red Label is Seaguar's economical fluorocarbon fishing line offering. It doesn't have some of the perks of their higher-end products but comes in at a price that is friendly for the occasional angler.
This one does not use Seaguar's Level Wind Technology, so it's a bit more prone to twisting than the AbrasX or Invisx.
It does, however, have good knot strength, and overall the line is very strong.
It's abrasion-resistant as we expect from Seaguar's fluorocarbon lines.
What makes this fluorocarbon leader stand out:
P-Line's fluorocarbon fishing line is one of our favorite inexpensive buys on the list, and we feel the same about their fluorocarbon leader.
While neither one offers the total package we love about the Sunline Super FC Sniper, this leader is tough as nails and very sensitive.
The CFX fluorocarbon leader is UV-resistant, so it should last you for quite a long time.
We appreciate how sensitive it is.
It isn't prone to kinking up either. As long as you're careful when tying the leader to your line, you shouldn't experience any issue with knots breaking.
What makes this fluorocarbon leader stand out:
Picking the best Fluorocarbon Line for your next fishing adventure
We've gone over some great fluorocarbon lines, from professional-caliber ones to inexpensive, kid-friendly options like the Spiderwire and Stren fluorocarbon fishing lines.
The balance of budget and effectiveness from these two, Seaguar's Red Label, and the Berkley lines help make it feasible to get the kids out and fishing, hopefully, to enjoy the hobby all of their lives.
For more serious applications, we like the P-Line leader and fishing line, as well as Yo-Zuri's.
Of course, Seaguar's Blue Label, Invisx, and AbrasX are good choices in our opinion and are well suited to a wide variety of species and fishing scenarios.
While we like all these other lines for various reasons, for us, the Sunline Super FC Sniper fluorocarbon line remains the best fluorocarbon line.
It ticks off every checkmark we want from fluorocarbon lines and only costs a little bit more than some of the others.
We like the attention to detail that Sunline has put in to make a great product.
The smooth, supple feel of the line while maintaining sensitivity is a huge perk for us. We want smooth, far casts, and we get that from the Super FC Sniper fluorocarbon line.
Broken lines and loose knots ruin a fishing trip, but we don't have to worry about it when we stick to the Sunline fluorocarbon.
Whichever you choose, we hope you get out there and enjoy the feeling of control that fluorocarbon fishing lines offer.
Land that big one and enjoy the fresh air.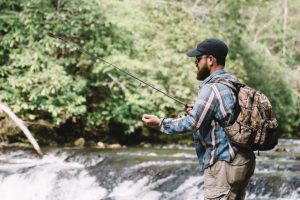 Some of the best fishing I've ever had was after a couple of hour hike. I didn't even know the lake was there. But once I saw it, I was so glad I was prepared. I thanked God I had brought my telescopic fishing pole with me. Since then I've never went on another hike without it.
Read More »