11 Best Fishing Reels for Freshwater & Saltwater Angling 2022
Best Fishing Reels For Any Adventure
The water is calling, whether you're out on the coast or out by the lakes and rivers. Underneath that shimmering water is a bounty of fish waiting for you to come along and reap them. There's no need to worry about whether or not your gear is up to the task, we've got you covered.
We've reviewed eleven fishing reels to help you choose the one that will win the battle for dinner.
Combo rods and reels are great for most beginners, but if you want the best fishing reel you'll need something more. By customizing your setup by choosing the right reel for the job gives you an edge when you're fishing for something more tricky than crappie.
Anti-reverse, drag, the bail and handle, the line capacity of the spool – they can all be customized a bit more to suit the unique needs of the fight you're entering when you buy a reel separately.
If you want real success when fishing, you need to approach it with some serious consideration. If you wouldn't use a pocket knife to chop down a tree, don't go out on the water without securing the best tool for the task.
Check out these stellar fishing reels so you can go out and catch your Moby Dick, Captain Ahab.
The Daiwa BG series of reels is our top pick for salt or freshwater fishing.
You can ramp up the size to the BG6500 that can be used for heavy saltwater game fish like tuna. Most users will find the BG2500 more than sufficient for large freshwater fish, however.
Daiwa offers a sleek package in the BG series reels. The black anodized coating on the aluminum housing will keep your reel in good condition even in the toughest saltwater conditions.
The handle is solid and is comfortable to use. The whole thing feels good in your hand. You'll appreciate that if you get caught in a long battle with a feisty one.
Daiwa has some unique features such as the Automatic Tournament Drag (ATD), which evens out the pressure on the spool and drag washers when you're fighting a fish. This all helps prevent breaking your line and losing your catch.
To achieve their exclusive ATD system, they implemented structural changes to the metal of the spool to give it more support and reduce twisting. You'll notice less pulsing during the fight.
With the Daiwa BG series, you also get their Infinite Anti-Reverse (IAR) feature, which aids in a smooth hookset by limiting rearward backplay in the handle to almost nothing. There's no slap-back when setting your hook or release of slacked line.
We like the Daiwa BG line of reels and one of the top reasons we say they're the best spinning reels on the market is because of their affordable quality. You don't have to shell out a small fortune for a nice reel. It's smooth, offers great control, and is tough as nails.
Fishing can be a contact sport at times, and it's nice to have something that can handle a bit of abuse.
Read a more in-depth review of the Daiwa BG 4000 here.
Why is the Daiwa is our favorite fishing reel?
The Okuma Ceymar spinning reel is a decent choice for budget shoppers. Okuma has designed their fishing reels to be sleek and streamlined to reduce bulkiness.
The Ceymar series of reels offers several sizes ranging from the c-10 for two to six-pound test lines up to their C-65, which takes twenty-pound line.
Their reels are made of lightweight aluminum that resists corrosion.
By using a computer system to balance the rotor system for the roller, Okuma has achieved a pretty smooth spin with little wobbling at high speeds. With an eye for solid construction, the Ceymar reels utilize an eight-bearing drive and elliptical gearing system.
The Okuma Ceymar reels have a quickset anti-reverse bearing, and a multidisc oiled felt drag system.
The handle is comfortable and ergonomic to use, and the reeling action is smooth.
The Okuma reels run a little bit smaller than some of the other brands we highlight, so take that into account when choosing a size.
For instance, the C-10 is more comparable in size to Shaimano's 500 than to their 1000. You'll need to take the line capacity into account if you're going to be fishing in large bodies of water.
Okuma's reels aren't a bad choice for a cost-effective setup. They won't break the bank and function pretty well. They reel in well, can hold monofilament or braided line, and have a nice variety of sizes.
Although Okuma says you can use their c-65 for saltwater game fishing, it's better suited to use on piers and jetties. This doesn't mean it won't perform well in those environments, though. We just found that it lacked some of the better supporting features for bringing up large saltwater fish that we want.
Don't attempt to bring in a record marlin with this one.
What makes this reel stand out
A classic, well-trusted brand, Penn is one of the top fishing reel manufactures around today.  With the Battle II they've made a much-loved spinning reel.
It has a full metal body, side plate, and rotor. The aluminum bail is durable and matches the elegant look of this reel. The black and gold combination creates a beautiful, polished look on the Penn Battle II.
There are concentric rings on the spool to mark out when it is at one-third, two-thirds, and full capacity of the line.
The drag washers are made of carbon fiber. This gives it plenty of strength while fighting a fish. The Penn reel also features an instant anti-reverse like the Daiwa and uses a five ball bearing crank to provide smooth reeling.
The handle is soft and comfortable and doesn't cause terrible fatigue with use.
The Penn Battle II series of reels goes up to their 8000, which can be used for those huge saltwater fish. If you just casually fish from a local lake, the Battle II 2500 or 3000 would be more than sufficient.
Using too large of a reel for your rod or the body of water you're in can mess up your fishing game in some unexpected ways (like reducing your casting distance.)
What makes this reel stand out
For smaller freshwater fishing, the many anglers say the Pflueger President series is the best fishing reel for the job. These Pflueger reels are manufactured of graphite for the body and rotor, which contributes to their very light total weight.
The overall appearance is nice for the price, which is very affordable for even the smallest budgets.
The action on this one is noticeably slower than the others we've looked at, but you have to expect sacrifices for the price. For all that, it casts well and is nice and smooth. The ten bearing system has a great deal to do with that.
The handle isn't our favorite, but for shorter fights with freshwater fish, it will do.
Some people do try out the Pflueger Presidential for saltwater fishing from the shore or pier. We don't really recommend these ones for that. They hold smaller test line at a lower capacity, and the saltwater will cause it to corrode pretty quickly, even with careful rinsing.
Keep this one for taking out with the jon boat and far away from the harsh saltwater.
Pfleuger has done some great work attempting to minimize line twisting and make an effective drag system. The Presidential line of reels has a sealed drag system to keep it lubricated and smooth with less work from you. For the price, the drag is satisfactory. There's not a ridiculous amount of line breakage with the Pflueger.
We do have a few issues with the Pflueger Presidential reels that we think it's only fair to warn you about. For very frequent use, they're not our favorite. Some of the components on it tend to wear out too quickly for our liking. That said, it's a solid choice for occasional use or for giving to an older kid who likes fishing but has outgrown their starter rod and reel.
What makes this reel stand out
Penn is a classic fishing gear brand that comes in at a very reasonable price if you're just dipping your toes into the fishing scene.
The lightweight graphite construction resists corrosion nicely. It utilizes a carbon fiber drag system that is designed to help with even large saltwater fish.
Penn knows that the Pursuit III is ideal for beginners and makes no claims otherwise. This reel is not fussy but operates well, considering the price.
There are some nice features like spool rings for at-a-glance insight into how much line you have out.
The larger reels, up the Pursuit III 8000, are quite good for saltwater fishing from boats in the open water or from off a pier. While not our favorite reel, we feel comfortable recommending them to you if you're skeptical about sinking a lot of money into a new hobby.
Penn uses a system that they call Instant Anti-Reverse, rather than Infinite Anti-Reverse we've seen in some of the others. Instant Anti-Reverse acts in the same way. It eliminates back play and helps you set your hook. The IAR works well on the Penn. There's really not anything to complain about with it.
Mounting this Pursuit III can be a little difficult if you don't use it with the right size rod for the reel you're using. Take this into consideration when planning the gear you'll be taking on your next fishing trip. The larger Pursuit III reels definitely call for beefier rods. This isn't a huge dealbreaker for us – just something to figure in when making your game plan.
What makes this reel stand out
Premium Spinning Fishing Reel
Let's get this out in the open first: this Shimano fishing reel is one of the most expensive ones we've reviewed and isn't one of our recommendations for newbies. There are a few reasons for that, and we'll get to them shortly. For now, let's take a look at the characteristics of Shimano's Stradic CI4+.
This reel has a nice look and a ridiculously light feel in the hand. The bail is made of titanium, and everything has a coating of Shimano's Coreprotect technology that keeps it rust-free for a long time.
The handle is ergonomic and functions smoothly.
There are some cool features to the Shimano, such as the asymmetrical Magnumlite rotor that is designed to improve rotation start-up and offer a smoother retrieve. The whole setup works well and offers impressive function, which it had better for the price.
One feature you should not look for on the Shimano Stradic Ci4+ is an anti-reverse switch – you won't find it. Shimano did this in an attempt to keep their reels more watertight and lightweight. You may not find it to be a big deal since most people don't back reel often and drag systems tend to function very well now. Whatever the designers at Shimano were thinking, they still ended up with a well-balanced and nice reel, just be prepared for this change if you go with the CI4+.
As for reel sizes, you can purchase anywhere from a small 2500 for catching little freshwater fish to the 4400, which is designed for ultra-durability.
As with the others, the largest Stradic CI4+ reels are solid choices for fishing in large bodies of water. They're reliable for inshore fishing and for bringing in big freshwater fish.
The 4400 has some excellent engineering solutions like Shimano's Dyna-Balance rotor and Fluiddrive II system for smooth casting and line control. These elements are nice to have when you know you're going to be engaging in serious battles or want to get past the worst of the surf.
What makes this reel stand out
We're pretty familiar with Shimano at this point. Their Stradic FK series is the prettier cousin of the CI4+ and every bit as costly. Made of cold-forged metal, the FK reel is a shimmering silver beauty. It reminds you of the sun glinting off the water in the best way.
The FK features Shimano's proprietary Hagane gear system. They're pretty proud of their Hagane gear, saying it stands for strength, robustness, durability, and reliability. While we don't know much about all of that, the Stradic FK reels are nice and if that's due to the Hagane gear, more power to them.
The same propulsion line management, Fluiddrive II, and Dyna-Balance systems that we saw on the Stradic CI4+ are present on the FK reel as well. The FK reels beat out the CI4+ reel, in our opinion, due to the better balance they have. Shimano did this on purpose to minimize fatigue during long fights. It's definitely a characteristic we appreciate. This one does come in a little bit heavier than our preferred reel, the Daiwa BG.
The drag is great on the Stradic FK and smooth, which we expect from Shimano. The handle is comfortable and ergonomic, an absolute necessity since this one is designed for bringing is large game fish. It performs best paired up with a strong rod. The FK takes up to thirty-pound Power Pro line.
What makes this reel stand out
If the Shimano reels' price tags about gave you a heart attack, don't worry, the Piscifun Flame reel will make you feel a lot better. For a budget bargain, this one is the least expensive option on our round-up.
The graphite body is lightweight and comes in a pretty standard looking black and red matte finish. There's not a lot that sets the Flame apart, other than the awesome price.
Now, don't get us wrong, we wouldn't recommend a piece of junk to you. The Flame performs surprisingly well given the cost, and we think it deserves a spot on our list because not everyone wants to spend a good chunk of money when they're trying something out.
Piscifun's Flame reel also makes a good choice for kids to practice their skills without causing you anxiety from giving them an expensive reel to beat up.
Piscifun recommends the 2000 or 3000 for freshwater fishing and reserving the 4000 and 5000 for saltwater fishing from piers and jetties.
We agree.
There are some decent features in their larger reels to help you bring in those bigger saltwater fish. They use three drag washers and a reinforced metal shaft to give some more oomph to their product.
They hold up surprisingly well, especially since the whole shebang feels like you could accidentally break it rather easily.
The rotor has been balanced well, and this one reels pretty smoothly. We had no problems with casting, although the distance wasn't as far as some of the better quality reels reviewed.
We did have a bit of an issue with how noisy the Flame is. Piscifun tries to put a happy spin on it, claiming this is a sign of quality, but if you don't want your fishing buddy yelling next to you on the boat, how is a loud reel a good thing?
All things considered, we like the Piscifun Flame for what it is: a solid choice for beginner fishers at a value price. We don't expect high-end performance from it, and it really isn't meant to compete with the big dogs. Use it to get down the mechanics of casting and retrieving before graduating to a more sophisticated reel.
What makes this reel stand out
This Penn Squall Lever Drag Reel looks much different than the spinning reels we've looked at thus far and should not be considered for novice fishermen.
That's not because lever drag reels are more difficult to use, per se, but because a spinning reel is a more universal piece of equipment that doesn't require as much experience to manipulate effectively as a lever drag reel.
The reason we feel that lever drag reels are best left for more experienced users is that they are intended for bringing in big fish – as in fifty or more pounds. You also need to have a solid casting technique already developed to use one properly or else you'll notice poor casting distance.
The advantage of lever drag reels comes from their custom control over the drag pressure to help you bring in those dream fish. They're bulky, heavy, and more expensive than spinning reels, which they predate by a good bit.
Penn's Squall is one of the best fishing drag reels.  It has  some of the same features we saw on the Penn spinning reels, like the rings for measuring the amount of line on your spool. The crisp black and gold coloring looks great if you're into nice reels.
You'll have to rinse the Squall reel after each use or the saltwater will corrode it pretty quickly, but that's all part of proper maintenance of your gear.
Other than that, it feels good in your hand, and the handle is comfortable to use. That's a critical consideration when you're bringing in fish that might fight for a long time before you bring them up.
The Squall stands up to abuse really well.
The retrieval rate on it is good, and the drag is very effective. For the price – which certainly isn't the lowest on the list – the Penn Squall lever drag reel is a smart buy if you're heading out to bring in some big, bad fish.
What makes this reel stand out
Everything that makes the Penn Squall an intimidating reel for first-timers in taken care of with spincast reels like the Penn President spincast reel.
You'll probably recall this type of reel from the little Disney-themed rod and reels kits you used as a toddler or that you bought for your own children.
They're classic and nostalgic and are perfect for beginners. We feel that the Pflueger President Spincast is one of the best fishing reels for beginners.
A lot of the nuanced work is eliminated for you with spincast reels, but that's not necessarily a bad thing. They're affordable, easy to use, and fool-proof.
There's little line twist, you can't over-spin the spool, and you can push a button to retrieve your line. Easy as pie.
The Pflueger take on the spincast reel is exactly what you anticipate: the spool is encased by an aluminum frame and has a pretty comfortable handle on it. You won't be using this one to bring in large fish anyway, so you don't need the most ergonomic reel you can buy. The line on spincast reels simply won't support fishing for heavy fish.
The Pflueger does help reduce fatigue while bringing up the fish and features spool-applied drag and Instant Anti-Reverse. It's a good reel for light baits and lures.
We did like that it casts well, reels smoothly, and we didn't have to struggle with line tangling.
Our biggest issue was with the handle trying to work itself loose from time to time. If you choose the President spincast reel, just know that applying some Loctite completely eliminates the issue.
What makes this reel stand out
Burning Shark has made a very cool looking and one the best trolling reels around.
Like the lever drag reel, it is recommended for experienced users who know how to handle the reel and the fish they want to catch. The Burning Shark reel is for deep-sea fishing and is the heaviest one on our list at almost two pounds.
The Burning Shark trolling reel is made from stainless steel and aluminum for maximum corrosion resistance in the harsh saltwater environment it was designed for.
We like the large, spherical knob that fits well in the hand and doesn't make it cramp up from gripping it. The Double Dog ratchet system keeps the handle from reversing.
As we'd expect from a good trolling reel, there's plenty of line capacity, around four-hundred yards.
The line release lever works very well.
We also liked that there's not a ridiculous amount of noise from this reel.
If you're planning an outing to fish in the open ocean, the Burning Shark is a budget-friendly choice that you may want to consider. There's a lot to be happy about with this one like the attention to smooth, quiet function.
If there's anything we'd have to knock it on, it would have to be that the handle has a penchant for trying to fall off, and it is not made of a material that floats. Be careful that you don't lose it in the water.
What makes this reel stand out
Picking the top fishing reel for you
We reviewed so many reels; you may not remember quite which ones might suit you best. Our favorite, the Daiwa BG series spinning reel, is a little more pricey than some on the list but has the widest assortment to ensure you find the right one for whatever catch you're hoping to bring it.
With the great function of the bail wire, smooth reeling, and awesome casting, it's easy for us to recommend it for any level of experience.
We have to go with the Daiwa over the Shimano reels, both the Stradic CI4+ and the Stradic FK series, due to their price. While they're relatively inexpensive when you consider how lofty the prices for professional fishing gear can get, we find them to be a bit too hefty for the average budget. Quality fishing gear doesn't have to cost an arm and a leg.
If you're in the market for a less expensive option – which we totally understand – you might prefer options like the Pflueger spincast or spinning reels or the Piscifun reel. None of them will hold up to heavy demands like the Daiwa that we prefer but are not bad for cutting your teeth on the world of fishing gear.
We did review some specialized reels like the Burning Shark trolling reel and Penn Squall lever drag reel. We can't recommend them for all situations like we can the Daiwa reel, and so they didn't make it to our top favorite spot. That said, they are both excellent reels if you require something for bringing in large game saltwater fish.
Overall, the Daiwa BG reels function the best as compared to their counterparts like the Okuma Ceymar reels and offer the very best value for the money in our book. We like them for freshwater or saltwater fishing. We trust them for bringing up little sunfish with the kids or hooking in a salmon.
Whatever you choose, we hope you enjoy the battle and the aroma of fresh-caught fish on the table.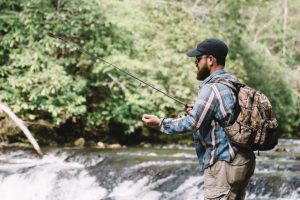 Some of the best fishing I've ever had was after a couple of hour hike. I didn't even know the lake was there. But once I saw it, I was so glad I was prepared. I thanked God I had brought my telescopic fishing pole with me. Since then I've never went on another hike without it.
Read More »