Humminbird Helix 7 Review | Amazing Chirp & GPS Fish Finder
Great Value GPS Fish Finder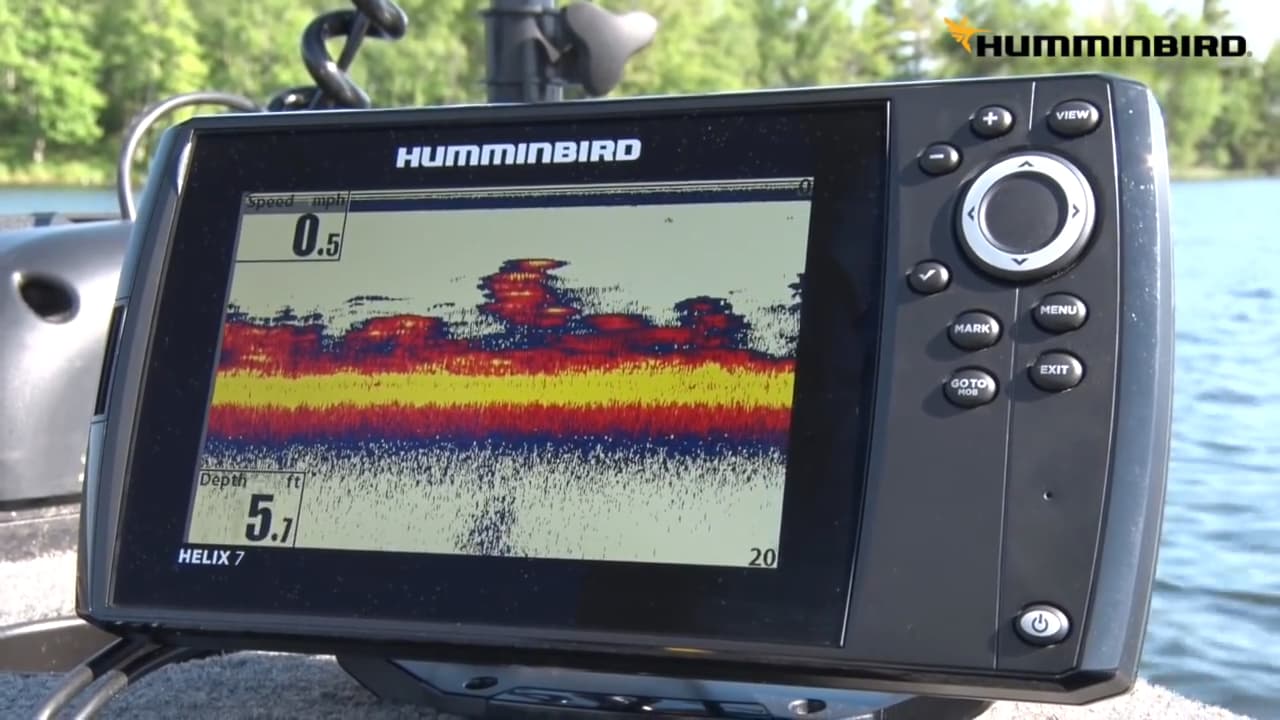 If you have spent any time looking at fish finders, you have most likely seen at least one of the products from Hummingbird.
When I first started fishing, I had a hard time figuring out which features were the most important. I learned the importance of built-in navigation and CHIRP technology.
I like the Helix 7 because it offers everything I require in a fish finder and I trust the manufacturer.
Things to Consider Before Buying a Fish Finder
Do you fish often?
Do you prefer fishing in the ocean?
If you answered yes, a fish finder will help you determine the best place to cast your line.
I know I have a lot more fun when I come home with a good catch.
Are you confused by all the different models available?
There is a lot to consider before you decide which is the right model for your needs.
Are you interested in the depth or the ground?
Are you determined to detect underwater obstacles, strata, or water flow?
Do you want to see silhouettes of the fish you are targeting?

You can accomplish all of this is you have the right features.
The sonar technology a fish finder uses is called CHIRP (Compressed High-Intensity Radiated Pulse). This is what enables you to recognize one fish from another.
You should also make certain the fish finder you choose has enough features to justify the price.
If you select a fish finder with a GPS map function, you can locate and mark the very best hotspots. You can record depth, see an overview of a variety of strata, and increase your safety when inclement weather is a factor.
If you do not have enough contrast when the sun is bright, you will not be able to recognize anything. This means you need a fish finder with a display large enough to provide you with a detailed representation to see what is in the water.
You need to consider your fishing style to determine if a portable or fixed fish finder will work best for your specific needs.
Do you rent a boat to go fishing, own your own boat, or fish in a kayak?
I recommend thinking about how and where you fish to figure out exactly which features you really need.
The Helix 7 Chirp Mega Di GPS G3
The Helix offers you a good variety of features.
If you are an angler, this fish finder is a good choice. The Helix 7 offers clear and bright images for a maximum water depth of 1,500 feet.
If you are familiar with the predecessor to the Helix 7, you will see similarities in the SwitchFire sonar, interface, and built-in GPS. One of the biggest differences is the side-imaging and down-imaging of the Helix 7.
The screen is seven inches, more than large enough for a split-screen view.
You can upload more maps using the single card slot.
I am impressed with numerous features including the bonded-glass display, upgraded memory, and gimbal-mounted bracket.
Benefits and Features of the Helix 7
The transducer will support 200/83/455 kHz frequencies. The Helix 7 is HD-ready, which means the unit supports the HD transducer.
You will see a water temperature indicator due to the built-in temperature probe.
All sonar technologies are supported including standard sonar, down imaging, and side imaging. You can cover 480 feet, 240 on each side.
Depending on what you need, you can select a wide, medium, or narrow beam.
If you want a strong fish finder, the Helix 7 transmits 500W of power with peak-to-peak at 4,000W. The frequency of the sonar is 83/200 kHz through 2D imaging.
The depth is good at 1,500 feet when you are using 2D images.
If you use side imaging, your depth is 100 feet. I have not found any fish finders in this price range with more depth.
Unless you plan on fishing extremely deep, you should have more than enough depth.
A Precision GPS receiver is one of the best internal components of this fish finder. My accuracy has been excellent, with corrections made using WAAS (Wide Area Augmentation System).
The unit saves a maximum of 2500 waypoints for 45 different routes.
I have been able to save maps, waypoints, and tracks. This has provided me with a lot in terms of convenience.
There is also a function I like for track plotting. You can save a maximum of 50 tracks while measuring the speed of your boat.
The UniMap has built-in cartography covering inland lakes and the United States coastline at approximately 30m/pixel.
The fish finder is also compatible with other mapping packs including Humminbird Mapping, , and AutoChart Pro.
I have found the color of the display is excellent. The Helix 7 offers 256 colors on the grayscale.
The display is diagonal, measuring a full seven inches.
The display is HD ready with a 480V x 800H pixel matrix with an IP67 rating.
The device is LED-backlit so incidental water exposure is taken easily.
You can take sonar recordings using the MicroSD card slot in addition to extra mapping. I used an SD card to upgrade the software.
There is an NMEA 013 port, but NMEA 2000 is not supported.
The Helix 7 offers a side to side imaging at 180 degrees. This will enable you to see what is below the surface of the water.
All your pictures are displayed in monochromatic and three-dimensional detail.
I used the transducer I received with the Helix 7. I was able to cover 240 feet on each side with the 455 kHz sonar beam. All changes were detected by the sonar when I moved forward.
I could see the bottom of the lake, and all signals were collected.
I was able to mark my location through GPS and magnify specific areas. The side imaging showed me detailed changes in the location of the fish.
When you use down imaging, you will be able to see the environment beneath the water. The images are created using 455 kHz sonar.
When the waves come into contact with something solid. you will see a transformation to a clear three-dimensional image.
The monochromatic images show you vegetation, fish location, and the terrain.
This is what enables you to easily visualize both your fishing line and lures.
If you are not familiar with CHIRP sonar, this is what enables you to see much clearer images.
The sonar scans the water using a sweeping frequency. This feature is available with several of the Hummingbird fish finders.
If you taking fishing seriously, you want to know what is hiding beneath the water.
I have found CHIRP sonar is a necessity. I also admit I have had a lot of fun playing with this new technology to determine its exact power.
The unit comes with a durable and sturdy gimbal mounting bracket.
I have found it is easy and fast to mount and disconnect. This is a definite improvement for the previous models I have used.
I did not have any difficulties installing the bracket. If you prefer, you can also use it for in-dash mounting. I have found these options both useful and reliable.
You also have the option to use the tilt-and-swivel mount.
Bluetooth is built-in so you can pair the Helix 7 to your smartphone.
You can use an RC2 remote to control the device, receive text messages including popups, or use the FishSmart app to wirelessly update your unit.
I love being able to share waypoints and sonar with my friends.
The Helix 7 has the G3N designation. This means if you look at the back of the fish finder you will see an ethernet port.
To connect your unit, you will need to purchase dongle cables.
If you are connecting three or more units, you need to purchase a five-port Ethernet switch.
This feature allows you to self map any unchartered waters.
While you are driving your boat, you will see depth lines appear on your screen. This will show you structure, vegetation overlays, depth changes, and bottom hardness to find good fishing spots.
The unit has enough storage for eight hours of recordings.
If you are using AutoChart LiveShare or an AutoChart Zero Lines card, you can store even more.
Additional Navigational Features:
There are some additional navigational features you should be aware of. If you drift off course, you will be alerted through an alarm once you have selected the perimeter for the Drift Alarm.
The Off Course Alarm is similar, but if you divert from a track you plotted previously, the alarm will sound. 
The Bird's Eye View provides you with a three-dimensional view of your current location.
This will show you the areas both above and behind your boat to help you determine your exact location easily.
Yes, water temperature readouts are provided through the thermometer that is connected to your transducer. The display also shows you additional information including the speed of your boat and the time of day.
No, the AutoChart Live service only allows you to upload depth soundings.
Yes, real-time information is displayed through the Image Update feature. All of the fish on your screen have been located in real-time by your sonar beam.
Closing and Final Thoughts
I recommend purchasing the Helix 7
for numerous reasons. I have found this is a high-quality unit ideal for boat fishing on rivers, lakes, and reservoirs.The features cost more on other units, making this fish finder an excellent value.The CHIRP for the Helix 7 includes every single feature available in the category with the exception of networking capabilities.I have used this unit numerous times and found the depth capabilities satisfactory for typical freshwater fishing.If you are looking for a good fishfinder without a high price tag, the Helix 7 is an excellent option.At the very least, I recommend taking a good look at this unit.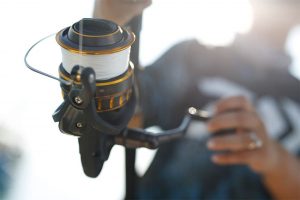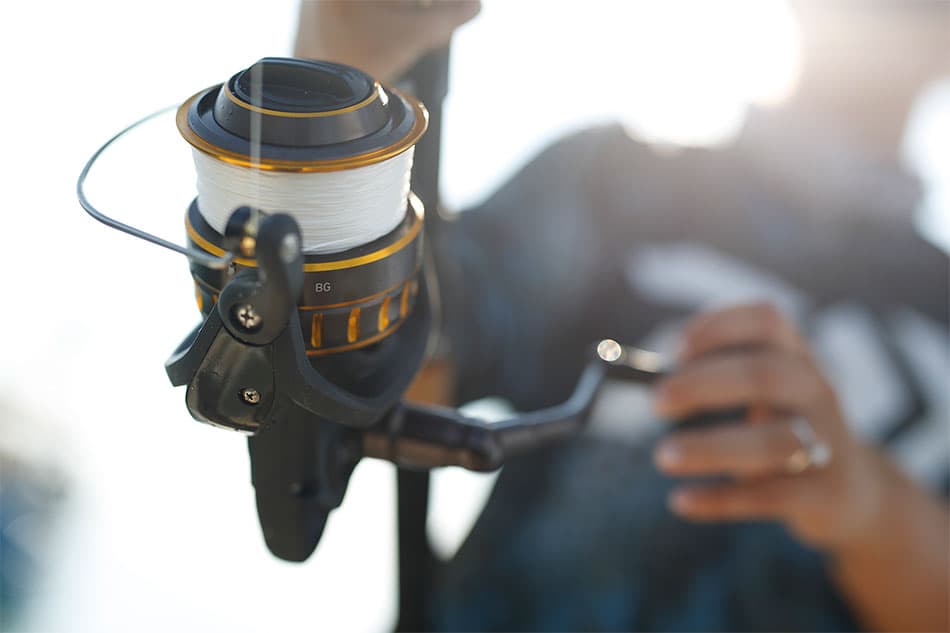 Are you looking for a great multi-purpose spinning fishing reel? If you are, and if you like to save money while still purchasing a quality product, check out our review on the Daiwa BG 4000. It just might be the reel you've been looking for.
Read More »