Orvis Clearwater Review – Best Fly Fishing Rod & Reel For The Money 2022
Great Value GPS Fish Finder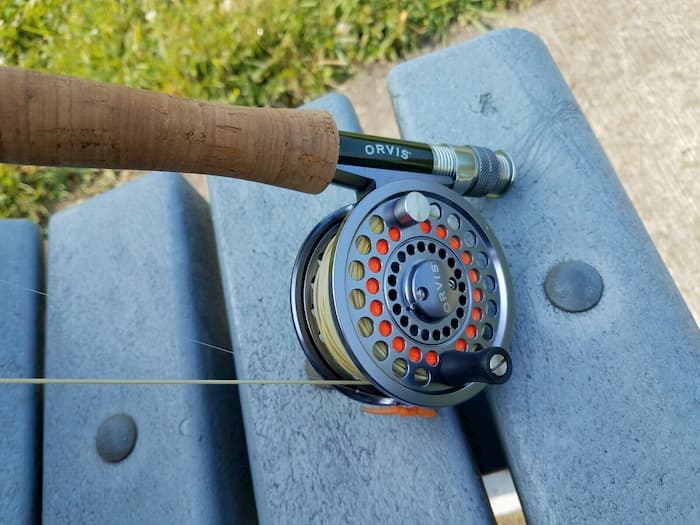 If you're looking for your first fly fishing rod and reel, the choices can be overwhelming.
I did a ton of research back when I was looking for my first fly fishing rod and reel, and what surprised me the most was that high technology had invaded the fishing industry.
I systematically eliminated the unimportant features and concentrated on the most important features.
After settling on the Orvis Clearwater 5-weight, 8'6" fly rod outfit, I became highly satisfied with my purchase. I just had to share with you exactly how I went about narrowing down the many options.
Things to Consider before Buying a Fly Fishing Rod and Reel
For a basic understanding of the fishing rod part of a fly fishing outfit, newbies should note that the rod serves the following three purposes:
Casting – A fly rod allows the angler to cast the line out onto the water with power and accuracy. Once good casting skills are developed, the angler can cast the line without spooking the fish.
Line Control – The fly rod lets the angler control the line after it has been cast onto the water.
Striking and Landing Fish – A good fly rod lets the angler hook the fish, fight it, and successfully reel it in without breaking.
New anglers looking to purchase their first fly fishing outfit should know the following basics: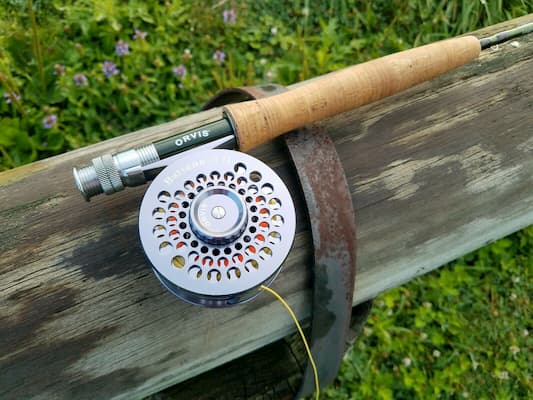 Rod price – New anglers don't need to spend $700 on their first fly rod. However, no adult should put up with a cheap fly rod. Mid-priced rods offer sufficient quality and many years of use. And new anglers do not normally quickly outgrow quality, mid-priced rods.
Rod action – A medium-action fly rod is ideal for new anglers because of their versatility. It would benefit a new angler who wants to buy just one rod that can handle all sizes of fish that are within the normal size range.
Rod length – For trout fishing, anglers need a rod that is between 8.5 and 9 feet long. Anglers need a short rod if they only plan to catch small fish.
Rod weight – A 4-weight, 5-weight, or 6-weight fly rod is best for trout fishing. A middle-of-the-road 5-weight rod is the most versatile.
Reel weight – The reel weight an angler purchases needs to match both the rod weight and the line weight that will be used. The mid-range 5-weight for all three items would suit most anglers.
Our Orvis Clearwater Overview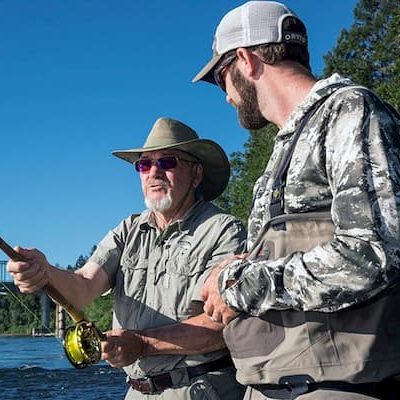 Orvis is a leading fishing gear retailer.
Orvis sells rods and reels for all budgets, however, this company does not sell junk.
It builds quality into even the entry-level gear that it sells, which is the Clearwater Series. Orvis backs up this series with a 25-year guarantee.
The Orvis Clearwater 5-Weight, 8'6" Fly Rod Outfit gives anglers of all skill levels many years of satisfying use without breaking the bank.
This 5-weight outfit is a handy mid-weight set that gets the job done in any flat, lake, or river.
The powerful rod lets the angler throw both big and small flies with power and precision.
The large-arbor reel enables fast line pickup, and the reel's inline drag system does not allow fast-swimming fish to get away.
You get a rod and a reel with backing, fly line, and leader. You also receive a Cordura case.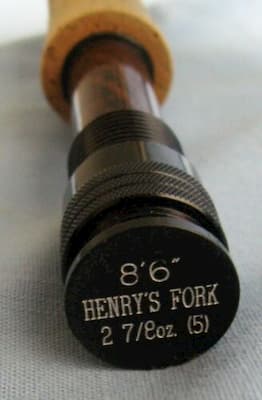 Weighing just 2.1 pounds, an Orvis Clearwater 5-weight, 8'6" fly rod outfit allows anglers to use it for long periods of time. Teenagers and women can fish with this rod and reel for hours without tiring from its weight.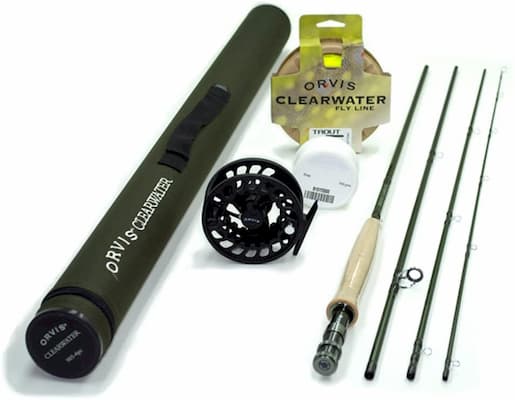 You get a fly rod, reel, and pre-spooled fly line when you purchase a combo package, otherwise referred to as an "outfit."
Like other outfits, the Orvis Clearwater 5-Weight, 8'6" fly rod outfit saves you money because of being sold together.
Another benefit of outfits is that the rod, reel, and line are balanced.
Just the fly rod portion of a fly fishing outfit can cost several hundred dollars.
High-dollar rods start at $400. Medium-priced rods start at $100. Of course, outfits cost more than rods do.
The featured Orvis outfit is a low-level Orvis product, it is medium-priced because Orvis doesn't sell junk.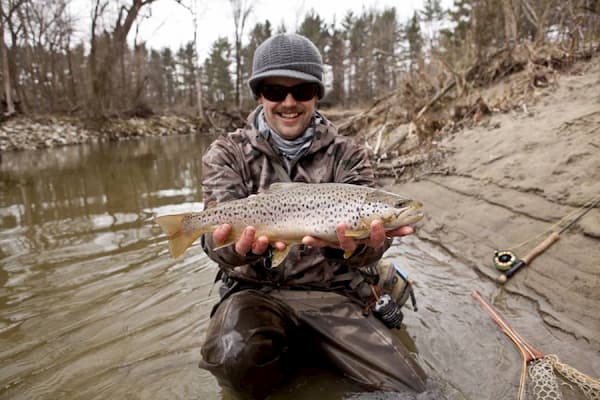 The "action" of rods refers to how flexible they are as measured on the backcast.
Fly rods come in fast action, medium action, and slow action. Each type of action provides its own set of benefits and drawbacks.
Medium-action rods like the one included in this Orvis outfit start to bend about halfway down. These rods are easier for new anglers to learn with than fast-action rods are.
Because they perform well in a wide variety of conditions, medium-action rods are suitable for anglers who want just one good rod.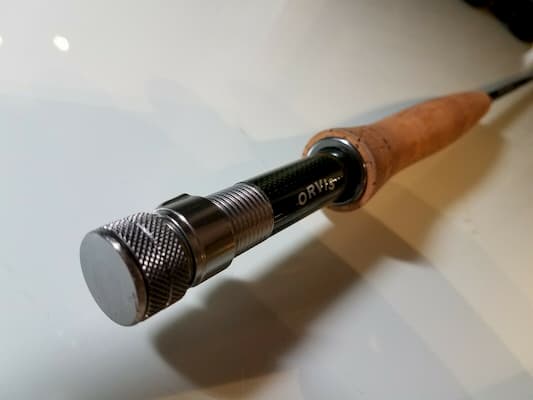 Old-fashioned fiberglass fly rods have been replaced by graphite ones in today's quality-made rods because graphite is lighter and stronger than fiberglass is.
The fly fishing rod in the Orvis outfit is also constructed with Helios tapers and profiles, which enables anglers to cast with power and precision.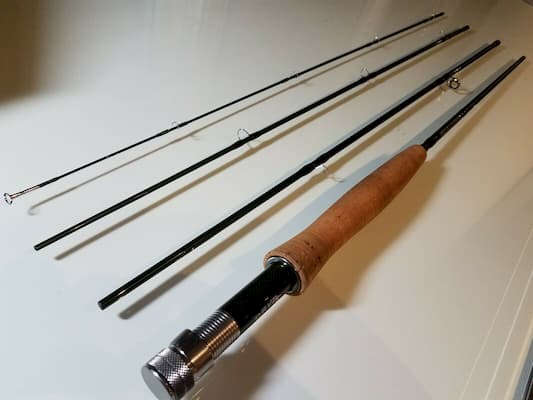 If you travel with fishing gear often, you'll care about how small you can break down your fishing rod.
The typical two-piece rods do not disassemble small enough for some anglers, especially people who take gear onto planes.
They need a "travel rod." The Orvis 8'6" fly rod breaks down into four pieces.
The rod in this Orvis outfit measures 8'6" long, which is a length that is useful for all-around fly fishing and for use in a wide variety of conditions.
By comparison, a rod that is 8' long or less is good for use where the angler would throw a short cast, such as in small streams. Short rods are also good for fishing for panfish using a light fly line.
An angler would use a 9' rod for long casts, when using a heavy line, or when fishing in windy conditions.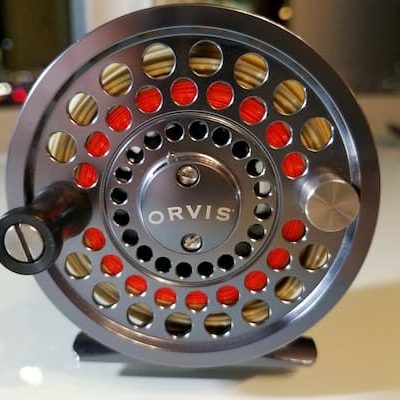 The reel weight must equal the rod weight so that it can hold adequate backing and line for successfully obtaining hooked fish.
The reel in this Orvis Clearwater outfit is a 5-weight reel, which matches the outfit's 5-weight rod and the line that is included in the set.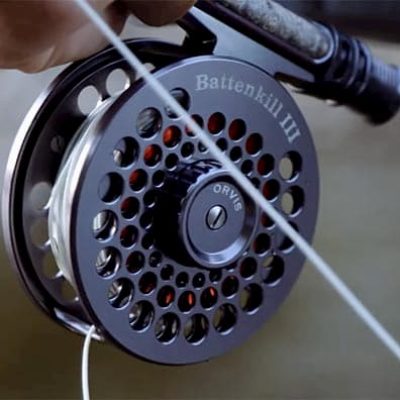 The Clearwater reel included in this Orvis outfit is a made of cast aluminum.
It features a powerful Rulon-to-stainless inline drag system, which will immediately stop even the fastest swimming fish.
This large-arbor reel provides fast line pickup, too.
Closing and Final Thoughts
In an effort to help new anglers through the purchasing process, we prepared several lists for consideration.
We started by listing the purpose of fishing rods. Next, we mentioned some of the most basic features newbies should consider before buying their first rod and reel set, which are a reel's weight and a rod's price, action, length, and weight.
We gave an overview of the Orvis Clearwater 5-Weight, 8'6" fly rod outfit.
We listed the benefits of this outfit's lightweight, combo package offering, price range, and the rod's action, construction, number of pieces, length, and weight.
We also discussed the reel's weight and its beneficial features.
We listed some of this outfit's pros and cons and answered some questions you may have.
Now that you know what to look for when shopping for your first rod and reel, take a look at the Orvis Clearwater 5-Weight, 8'6" fly rod outfit.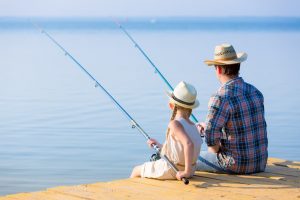 Looking for a super budget friendly fishing reel? Okuma's Ceymar Spinning Reel may just be the perfect reel for you. With models 8 different models, they're sure to have the perfect one for you!
Read More »