Best Fishing Pliers & Multi-Tools For Saltwater & Freshwater Anglers
Fishing pliers are among the most underrated fishing gear. Most people don't realize their importance until it's too late, and they are desperate for them.
The best fishing pliers ease your fishing experience and can assist you when you least expect.
The fishing pliers should be able to bend wires, remove hooks, cut lines, change slit rings, among other activities. However, if you end up buying a pair of crappy pliers, you will end up with a rusted shut shank of metal in no time.
That being said, you don't have to find high-quality pliers out of your budget, you just need to know what to look for.
Features to Look for When Buying Great Fishing Pliers
Pliers come in different designs, and your ultimate choice will be made depending on your style of fishing. Nonetheless, the material of the pliers plays a crucial role in determining its durability in both fresh and salty water.
Most pliers are made from stainless steel, which, although being an excellent material, requires an added layer of protective coating to increase resistance to rust and corrosion.
The premium fishing pliers have a titanium layer coating added to the stainless steel. This boosts the pliers' durability significantly.
Another suitable material to look out for when shopping for fishing pliers is aluminum.
The primary type of aluminum used in fishing pliers is aircraft-grade anodized aluminum. It is sturdy than regular aluminum, hence offers increased strength and durability.
Aircraft-grade anodized aluminum also protects the pliers against rust and corrosion.
Buying high-quality fishing pliers made of sturdy materials is vital since they are mostly used in wet and humid environments. In such environments, reactive metals tend to rust. The rust may cause them to fuse permanently, thus rendering them perpetually unusable.
1. Features and versatility
Versatility in fishing pliers is essential.
On a fishing trip, you often have to cut fishing lines, create joints, and remove hooks, among others. Almost all these activities require the use of pliers.
Since you probably don't want to buy a pair of pliers for each specific task, you need pliers that can do all that on a single unit.
Some fishing pliers also come packed with cool features like spring-loaded handles. Spring-loaded handles are helpful when using the pliers repetitively. The spring reduces fatigue on your arm and the equipment also.
When checking out the features in fishing pliers, also consider the nose length. The longer and narrower it is, the easier it is to remove hooks stuck deep in the body of the fish.
Needle-nose and long-nose pliers are suitable for saltwater fishing, but can also be used with a larger freshwater catch.
Something else you should look for is a side cutter. Side cutters in pliers are useful in cutting hooks or stronger wires.
Most fishing pliers come with line cutters on both sides, which makes them effective in cutting braided hooks of different sizes.
Some fishing pliers also come with a split ring tool, which is combined with a small hooked end at the nose of the pliers. A sit ring tool can be applied in a braided fishing line.
2. Weight, ease of use and safety
When fishing, you might need to use your pliers abruptly, while holding a wiggling fish. The ease of use of the pliers, therefore, becomes paramount since you might end up losing the fish and hook line while trying to reach or apply the pliers.
Fishing gear is generally heavy, adding a heavy tool onto your already heavy load can not only be tiring but can also take out the fun.
Lighter pliers serve to lighten up your gear and are also easier to handle than their bulky counterparts.
In terms of safety, fishing pliers with a protective sheath are is the best option. The protective sheath protects your hands from cuts and comes in handy when you need to handle electric current (although rare).
Although fishing pliers are an excellent grip tool, most fishers use them for line cutting. No matter what type of fishing method you use, you often find yourself in a situation where you need to cut the line.
There is a wide variety of cutters out there, each suited for cutting different types of lines. Despite their availability, carrying too many tools can be daunting and sometimes confusing.
It is, therefore, better to go for pliers that have cutters incorporated into their design.
Fish slime… Fishing lures and water can make things pretty slippery.
When shopping for fishing pliers, you should go for those with molded, ergonomic grips since they are much easier to handle and have a slight possibility of slipping off your hands.
The grip is a vital factor to consider because a bad grip could cost you your catch or even the pliers themselves.
You should also check the quality and material of the handle.
Fishing pliers with nylon sheath handles are the best since nylon is not easily worn out and also doesn't slip off the frame.
9 Top Fishing Pliers on the Market
The Bubba Blade are our top fishing pliers pick. These pliers offer a perfect combination of strength, resilience, and control.
One thing you can blindly bank on is their no-slip grip, which never disappoints.
At first glance, the feature that will impress you most on these pliers is the super hard and tough handles, but that's not the only thing you'll like. These pliers also come with a tough cobalt cutter, a robust leader sleeve crimping cutouts, and a user-friendly split shot.
With a total length of 7.5″, these pliers are very robust and pretty easy to use. Their length makes it easy for you to replace treble hooks or replace them.
Also, their aerospace aluminum structure makes them super light and very sturdy.
They also come with a tri-nitride coating that is rust-resistant and cuts through scales with ease.
What makes them our favorite fishing pliers?
If you often fish in saltwater, then these my be the perfect fishing pliers for you. The 7.5″ anodized aluminum structure is perfect for handling hooks, fishing lines, and other gear.
The rust-resistant coating on these pliers makes them practically maintenance-free. All you've got to do is wash them and keep them safe.
Their multipurpose design and the fact that they come with a free holster and rope ensures that you get value for your money.
In terms of functionality, they are spring-loaded and are therefore great for griping fishing lines rapidly, and removing small hooks.
Also, their advanced rust and corrosion resistant coating make them very durable.
They also come with a tungsten carbide cutter that can cut through braided fishing lines with ease.
What makes them stand out?
Budget-Friendly Fishing Pliers
Kastking claims that these pliers are three times more reliable and 45% harder than those from other brands. While we can't substantiate those claims, we can certainly say these are some of the cheapest fishing pliers on this list.
Their corrosion-resistant steel construction is coated with Teflon for added protection. They are, therefore, suitable for both saltwater and freshwater fishing.
Their super-hardened tungsten carbide cutters slice through fluorocarbon, mono and braided fishing lines with ease.
They also come with a side-mounted anvil cutter that allows you to cut your tag as close to the knot as you want.
Additionally, they have a raised surface behind the blade that ensures that the line you're cutting is always in the cutting zone.
Their construction also features multi-function jaws that have a versatile slit ring and straight nose design that make it easy to grab and remove fish hooks.
Their serrated jaws also come in handy when crimping slots to building a steel ladder or secure a split shot.
What makes them stand out?
Best Quality & Longest-Lasting Pliers
If you are looking for versatility, that's precisely what you get with these premium fishing pliers. The design incorporates both pliers and scissors that work great to get the job done.
They are perfect for managing professional cutting, bending, trimming, crimping, shearing, and hook removal.
Their smooth and comfortable Dynaflex handle with a steady non-slip grip makes handling these pliers a walk in the park.
These "scissors" are built with precision and quality. They are made with Bucks Edge 2x 420HC stainless steel, thus guaranteeing quality, efficiency, and durability.
That, coupled with a long nose design that is perfect for hook removal, makes them a pretty good take.
Their design also features small and large crimping tool with a lanyard hole and bottle opener. The Dynaflex rubber handle also includes a heavy-duty nylon sheath for maximum efficiency and durability.
What makes them stand out?
The ergonomic design of the pliers is simply awesome! Gerber took it to the next level with the design and functionality of the Magniplier.
The Bear hand control in these pliers gives you a solid grip and smooth operation. It is comprised of three systems that work together to transfer power from your hand to the load in the most effective and optimum way possible.
First, the space between the handles is optimized to meet your hands in the place where they are most powerful, thus giving you a firm grip and comfortable cutting experience, even with the hardest fishing lines.
Second, they have an oversized finger choil where you can rest your forefinger for more stability when using them.
Third, the nose of these pliers is laced off-axis to give you control and a clear line of sight when removing hooks.
The construction is made of forged aluminum, giving them a sturdy and corrosion-resistant build. Also, a tolerance range for the gap ensures that the cutters work efficiently when cutting an object.
We really like the Magniplier and even know multiple people who say they are their number one fishing pliers.  However, due to their higher price tag we've placed them a little lower than some of the other entries.
What makes them stand out?
If you are searching for a pair of top-notch pliers, then this might just be the product for you.
Their aluminum handles are super lightweight, so your wrists won't get tired quickly when using them. It also makes them pretty easy to carry around.
The cutters are made of tungsten carbide, which is not only super-hard but also resistant to rust, corrosion, and wear.
What makes them stand out?
Regardless of the size of the fish you are after, these pliers have everything you need. They are made from CNC machined, anodized, aircraft-grade aluminum. This significantly reduces the chances of corrosion.
Their ergonomic design makes them very easy to handle and use. Also, the handles are lightweight and have a smooth grip, so you don't have to worry about hurting yourself when using them.
Their cutters are made of tungsten carbide, so there is no doubt about their strength and durability. The cutters are also replaceable.
Their split-ring design also makes removing hooks and cut lines effortless.
What makes them stand out?
These pliers feature strong tungsten carbide cutters that cut through braided and mono lines with ease.
The cutters are also replaceable. Therefore, you don't have to buy new pliers when they get worn out.
If you lose things easily, then you will appreciate the thermoformed sheath that comes with these pliers. The sheath is covered with 600 denier nylon with a 36″ self-retracting tether reel.
They come with two attachment options, two fixed loop straps, and a stainless steel belt strap. Both attachment mechanisms do a great job of keeping the pliers safe and within reach.
Their construction is made of aluminum and has corrosion-resistant stainless steel jaws. The stainless steel jaws also come with crimps and a split ring opener.
One of the best things about these pliers is that T-Reign offers a lifetime service policy for the sheath and a –year service policy for the pliers.
What makes them stand out?
If you are in the market for grippy, comfortable pliers, then you've got to check out these pliers. They have an ergonomic design that fits so well in your hands.
Without a doubt, you'll enjoy using them every time.
Construction-wise, these pliers come with tungsten carbide cutters that can cut through any fishing line. In case they get worn out, there is no need to worry. The cutters are replaceable.
They come with a durable nylon sheath, fish flip gripper, and a lanyard.
Transportation is made easy by the belt loop clasp and coiled lanyard that make them convenient to carry.
Also, the fish flip gripper has a firm stainless steel jaw.
What makes them stand out?
Your fishing adventure awaits!
Fishing pliers are a basic necessity for any fishing enthusiast. They incorporate the functions of grippers and cutters into one tool.
Having a pair of pliers with you when fishing can make your fishing experience easier and more comfortable.
In the article, we have discussed some of the key features that you should look out for when purchasing the best fishing pliers.
Following the points that we have discussed will ensure that you end up with a durable and efficient tool that is easy to handle and use.
We understand how hard it is to shop for quality fishing pliers from a multitude of products to choose from. For that reason, we have reviewed nine of the best fishing pliers on the market.
We recommend the Bubba Blade 7.5 Inch Fishing Pliers with Stainless Steel Jaws.
The plier is made up of non-slip grip handles, which most pliers don't have. Its compact size and ergonomic look make it stand out from the rest.
Last but not least, the tool is durable and will undoubtedly serve you for the longest time.
Depending on your preference and budget, you can also try out Manley Professional Saltwater Fishing Pliers and KastKing Cutthroat 7″ Fishing Pliers – best quality budget fishing plier pick. The two are fantastic tools and will give you value for your money.
If you prefer online shopping or lack the time or motivation to go from shop to shop, consider any of the pliers that we have reviewed for guaranteed quality—happy fishing and good time out there.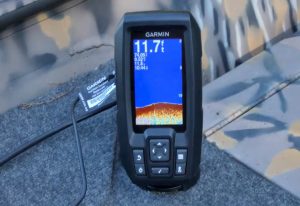 It's unbelievable how much more enjoyable fishing is when you have a good fish finder. The cherry on top? When that fish finder is priced like the Garmin Striker 4. Check out our review to see if this powerful little device is for you!
Read More »