Shakespeare Ugly Stik GX2 Review – Great Combo Spinning Rod & Reel 2022
Great Value Spinning Rod & Reel
Ugly Stik is a classic fishing tackle company. Most of us have fond memories of some trip out with just a couple of Ugly Stick rods and a case of beer. No muss, no fuss, just our solid, reliable Ugly Stik.
We like the Ugly Stik GX2 fishing rod for several reasons. We think you will too. We want you to be sure of your gear before you spend your hard-earned money. With that in mind, we broke down everything there is to know about the GX2 so you can be ready for your next fishing trip.
Things to think about before you buy a new rod
There's a wide world of fishing rods out there, and navigating it can be daunting when you're a newcomer.
What's a spinning rod, casting rod, surf rod, and the list goes on.
So which is right for you?
The GX2 we're reviewing today is called a spinning rod, which is a very popular type of fishing rod. They cast easily and are used in a wide variety of situations. Spinning rods are especially beginner-friendly, which is probably their best asset.
If you have a few spinning rods in your collection, you can easily take a friend or your kids fishing with you.
When you purchase a fishing rod, there will be different lengths available. You choose which length is right for you based on a few different criteria.
For instance, if you need to cast far in deep water, you're going to want a longer rod.
Short rods don't cast as far but have less bend, making them well suited to fighting up a fish in shallower water.
For newbies, we think 7 feet is a good rod length. At that size, you get a good combination of casting distance and manageability. As your casting skills develop, you can branch out and try new types of rods and different lengths.
Be aware of power and action
Power and action are important characteristics that help you choose the right rod for the fishing situation you're jumping into. Power is the amount of force needed to bend the blank of the rod.
The "blank" is what you probably think of as the rod: everything after the handle and reel.
Power is rated from ultra-light to ultra-heavy.
Heavy rods are well-suited for bringing in huge fish, and light ones are for smaller guys.
The action is the part of the blank that bends.
Slow-action rods bend close to the handle while fast-action rods bend only at the tip.
Use a slow-action rod for lightweight baits and lures and fast-action rods for heavy ones.
The Ugly Stik GX2 is a revamped version of the classic Ugly Stik. They've focused on maintaining the reputation for strength and dependability that the original was known for while providing some new benefits that have come about in rod technology.
The GX2 has received a facelift and has a better feel in your hand thanks to its improved balance.
They also upped the quality of the components to give you an even better bang for your buck.
Ugly Stik has always been an affordable, good brand of rods and the GX2 lives up to that.
Ugly Stik's GX2 has a lot to love for the typical angler. We've got a few favorites that we'll break down below.
There are plenty of folks out there who turn their nose up at Ugly Stik because they consider it to be a "bargain brand."
So what?
There's a lot to be said for a company providing a quality product at a price that the average consumer can afford.
For most of us, fishing is a hobby, not a job. Gear that comes in at a reasonable price makes that hobby much more feasible.
Graphite and Fiberglass Composite Construction
Graphite rods are nice for a few reasons. They are lightweight and resist breaking. Many companies are shifting to graphite rods to take advantage of those qualities.
Graphite is very sensitive, allowing the fisherman to feel what's going on under the water. A lot of the high-dollar rods you see today are made from graphite for this reason.
Fiberglass has a role to play in the fishing world, still, and it's nice to see Ugly Stik using it.
Fiberglass isn't as sensitive as graphite but does a better job when you're bringing up large, fighting fish. It's typically used for slower action rods.
By combining these two materials into a composite, Ugly Stik is taking advantage of the best of both worlds.
You get a rod that is strong and resistant to sudden breaking. You also don't have as little responsiveness as a pure fiberglass rod.
We find that it leads to a nicely versatile fishing rod for inshore fishing.
Yes, it matters.
Especially if you're going to be out all day and anticipate lengthy fights, the EVA grip on the GX2 resists the moist conditions you can obviously expect when out on a fishing trip.
It also feels good in your hand while still giving you a secure grip to prevent you from dropping and losing it in the water during a more intense battle.
Strength is Ugly Stik's promise to its customers. When you purchase one, you expect to be able to use it for years without it suffering from a sudden snap.
The GX2 is a tough as nails.
After plenty of use, we think it'll still hold up for tons more. This is even more important for beginners who don't know any finesse, yet. You can muscle up a fish with this one and feel confident that it will hold up.
The Shakespeare Reel is Pretty Decent
Okay, confession time: usually, we're not huge on combo rod and reels.
There are a few reasons for that.
The main one is that we like to tailor our needs to each fishing trip and species.
That said, when we're talking about a general-purpose rod and reel or one for the kiddos to use, we throw that out the window. Then you're just out having fun, and a fancy reel makes zero difference.
Shakespeare reels are a pretty solid brand for most hobbyists. With proper care, they'll last for a long time.
You also don't have to learn anything complicated to use it.
We like how straightforward this combo is.
Lightweight and Easy To Travel with
The GX2 rod comes in a single piece for the shorter, heavier action rods, and two parts for the longer ones with faster action. Breaking down the seven-foot rods makes them a bit easier to tuck away when you're on the way to the lake.
When it's time to set up your site or make camp, lugging a lot of heavy equipment around is the last thing anyone wants to do. We liked how easy it was to tote around these rods.
Even better for kids, they won't have to struggle with a large, cumbersome rod.
Going with the Ugly Stik GX2 fishing rod
As we've said, we like the GX2. It's a budget-friendly, sturdy fishing rod. You get a Shakespeare reel with the combo that, while not the most high-end reel out there, we think is a good one for beginners and kids. We also like this one for even experienced anglers to just go out casually and have a little fun.
If you get this one, we know you'll like the strength and responsiveness of the rod. Check it out and take the family or your friends out for that much-needed fresh air.
When the fish is sizzling in the pan, you'll forget all about the troubles in the world.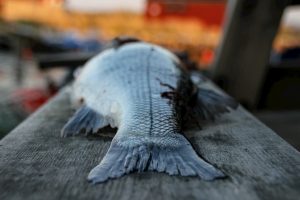 We enjoy fishing, the activity itself is fun and relaxing. You know something else that's fun and relaxing? Eating good food! Learn some great tips on filleting the fish you catch so that you can turn fishing fun into eating fun!
Read More »