Okuma Ceymar Review Budget Friendly Spinning Fishing Reel
When it comes to fishing, the reel is a key component to landing your fish. Proper casting, presentations, hook setting and retrieving all depend upon the quality of the fishing reel you use.
Manufacturers, including Taiwan's Okuma Fishing Tackle Co., LTD., offer a variety of products designed to improve your fishing.
An example of this would be Okuma's line of Ceymar Spinning Reels. Eight models are offered that will allow you to properly match your gear to the fish as well as the environment that they are in.
Let's take a closer look at what these reels offer and how they may help you bring in your favorite fish.
Things To Consider Before Buying A Fishing Reel
We will start this review by taking a closer look at some things that you will need to consider so that you are getting equipment that matches your needs.
Many anglers, especially those that are new to fishing, will begin with setting a budget for their purchase. Prices on fishing reels will vary greatly, so having a price range will allow you to ignore products that fall outside of that range.
Next, you will want to consider the type of fish that you will be looking to catch. I would recommend different gear for catching Perch than I would if you were going after Yellowfin Tuna.
Larger fish will require a heavier line and fish found in deeper water will require more line to reach them, so your reel needs to match the line used.
Another consideration will be the environment you will be fishing in. Some reels are designed to handle saltwater conditions while others are better suited for freshwater only.
Matching your reel to the water conditions will allow them to avoid issues like corrosion from saltwater by including protective coatings or resistant materials in the build.
You will also want to determine what type of reel you want to use. Most anglers group reels into the following categories:
baitcasting
fly fishing
spin bait
spinner


Each type of fishing reel is used differently and they will have distinct advantages as well as disadvantages that will make one more preferable over another in your eyes.
Finally, you will need to figure out which added features that manufacturers offer on their products are critical to your abilities and style so that these can be included in the fishing reel you purchase. This includes the type of drag or gear system the reel uses.
Our Okuma Ceymar Spinning Reel Overview
Okuma offers eight models in the Ceymar Spinning Reel product line. These models range from the smaller C10 (designed to hold 110 yards of a 4-pound line) to the C65 (built to hold 260 yards of a 20-pound line).
The reels use aluminum for the housing, allowing the equipment to feel lightweight without sacrificing on durability.
Ceymar Spinning Reels are built on an eight bearing fluid drive system. This will allow you to make smooth casts and retrievals each time. Its aluminum spool provides a solid base for either braided or monofilament lines.
The rotor system is computer balanced, a design element that will help eliminate wobble as you reel in your line.
This line of products can be used in freshwater conditions or saltwater without damaging the reel.
It is worth noting that Okuma offers these at a price point that any fisherman can appreciate.
Okuma Ceymar Spinning Reel Benefits And Features
Some of the features that stand out on the Ceymar Spinning Reel include:
Corrosion Resistant Materials
Durable And Lightweight
Multi-Disk Drag System
Smooth Bearing Operation
Sleek Body Design
An Affordable Price Point


These features offer you a variety of benefits, such as:
Corrosion Resistant Materials
Okuma has made this line of fishing reels using a variety of materials that can resist the damage associated with moisture, including saltwater. This is accomplished using metals and alloys, such as aluminum and brass, for components. That gives you protection without adding coatings or other substances that may wear off with use.
Another consideration is the non-metallic materials that are used. Ethylene-vinyl acetate (EVA), other plastics, and graphite are used for some parts and can provide resistance to water damage as well.
The housing of the reel is made from mostly graphite. This provides better durability than many of the plastics used on other budget-friendly products.
Its spool is made from machined aluminum, allowing it to hold your line of choice without it wearing down with constant use.
Another advantage of selecting these materials is that the reels are lightweight when compared to some of the other brands, especially when comparing the larger models. This can become important as you cast and retrieve the line throughout the day.
A lower weight equates to less fatigue, and it also provides you with better control no matter what your skill level may be.
Traditional drag systems made use of a drag wheel and washer to apply resistance to the reel. The system used here makes use of multiple washers and drag wheels, as well as oiled felt components.
A multi-disk design also allows the reel to have a sleeker profile and helps to keep the weight at a minimum.
As these are combined, they provide a stronger drag than found on older fishing reels. They also allow the drag to operate more smoothly, providing you with consistency and less slipping as the threshold is approached.
Two sets of bearings offer better overall operation as the Ceymar Spinning Reels are used.
An anti-reverse roller bearing helps to prevent slips and issues with your line as you retrieve it. This part is also a quick setting system that will reduce the instances of tangles or your line coming off of the spool.
It also uses an eight bearing drive system that provides smoothness by reducing friction. That will allow you to cast farther, be more accurate with your casts, and produce more consistent drag resistance.
This can also increase the life of your fishing line.
Okuma's design team has selected to use two anodized colors on the aluminum spool to provide a stylish appearance.
The body itself is built to offer less weight by eliminating all but the essential housing elements. That includes a thin zinc handle and a drag system made to provide a thinner profile.
Another body feature to pay attention to is the cyclonic flow rotor design. It provides more air-flow through the rotor. This minimizes the amount of water penetration and adds to the corrosion resistance already provided by the materials used.
An Affordable Price Point
A final feature that both you and I can appreciate is the price of the Ceymar Spinning Reels.
There are products with similar design elements, but they are usually found with a much higher price tag.
Also, these fishing reels offer features that are often not found on other budget-friendly reels.
Reeling It All In | Closing and Final Thoughts
Now that you have had a chance to read about the Ceymar Spinning Reels, you have a better idea of how they can help to improve your overall fishing experience.
Okuma offers eight models of varying size so that once you determine the type of fish and fishing conditions you will encounter, you will be able to match a reel to them.
These products are offered at a friendly price, something that allows you to take advantage of the benefits the reel provides without breaking the bank.
They are sleek in design, offering a lightweight reel that will not cause fatigue while you fish.
A thin design also highlights the multi-disk drag system that uses oiled felt to improve performance without adding extra bulk.
Each model uses a rotor system that is computer balanced, taking the wobble out of your retrieval.
It also employs an eight bearing system that provides smoother operation. You will be casting more accurately and at a longer distance while extending the life of your fishing line.
While no reel can promise you complete corrosion protection, the metal and alloys used throughout the build have been selected, in part, due to their natural resistance to water damage.
All of this adds up to equipment that will serve you well for a long period of time.
Make sure to look for Okuma's Ceymar Spinning Reels online and take advantage of the features these budget-friendly fishing reels offer!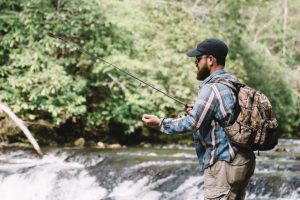 Some of the best fishing I've ever had was after a couple of hour hike. I didn't even know the lake was there. But once I saw it, I was so glad I was prepared. I thanked God I had brought my telescopic fishing pole with me. Since then I've never went on another hike without it.
Read More »