Best Spinning Rod – 11 Top Spinning Fishing Poles 2022
How to pick the top spinning rod for fishing
We've said it before, and we'll say it again: you need the right gear for the job!
Many beginners may not be aware that there are several different types of rods and reels. We're here to help.
Today we've got 11 of our favorite spinning rods laid out for you.
First, what is a spinning rod, and why do you want one?
Spinning rods are ideal for beginners because they are easy to cast without tangling the line. Of course, they aren't only for rookies and are a useful weapon in your arsenal.
A spinning rod has the reel seat and guide eyes pointing downward, underneath the rod.
We like that you can quickly adjust the drag and reel fish in smoothly and that the handle is held in your dominant hand, giving you optimal control.
You can find spinning rods in several sizes to suit the needs of your environment.
Spinning rods are a good choice when you're going to have some slack in your line. You can control your lure well with a spinning fishing rod.
They're straightforward and simple to use, making them a good choice when you'll be casting often.
Check out our lineup of the best spinning rods and get out on the water.
Top Multi-purpose spinning fishing rod
The Ugly Stik Tiger Elite is our top spinning fishing rod choice. Oh, Ugly Stik, what would the fishing world be without you?
In with our favorite, the Tiger Elite spinning rod. It gives us everything we want from a spinning rod from the classic Ugly Stik brand.
Why do we like this one so much?
It's strong, but the added graphite in the composite makes a sensitive rod, allowing you to feel and respond quickly when a fish bites.
Ugly Stik doesn't make you choose between quality and budget, which we're all about. Expensive gear is cool, but we want as many people as possible to be able to get out and fish.
You can get a medium weight Tiger Elite spinning rod up to a heavyweight one. Ugly Stik recommends their rods for use during pier and plug fishing. We agree.
Spinning rods are generally best left off the boat if you haven't honed your cast to prevent rocking your boat and causing waves that scare off fish.
The Ugly Stik Tiger Elite pairs up well with either fresh or saltwater fishing. You can use that heavy rod to bring in bigger fish without having to worry about a guide eye snapping off.
These rods stand up to abuse without throwing in the towel.
Looking for a great Ugly Stik rod and reel combo? Check out our review on the Ugly Stik GX2 Spinning Rod with Shakespeare Spinning Reel.
What makes the Ugly Stik Tiger Elite our favorite multi-purpose spinning fishing rod?
Multi-purpose spinning fishing rod runner up
Abu Garcia's Veritas spinning rod is our runner up to the Tiger Elite from Ugly Stik. There's a lot to love about it, and we're comfortable recommending it if it suits your wants.
This one also utilizes graphite for a light, sensitive rod. You do want that so that you can detect bites and set your hook. Abu Garcia hasn't compromised on strength, though.
We find that their spinning rods hold up well to the love we show them. They're also comfortable in hand, which we appreciate.
If you're hoping for more lightweight options than could be found with the Tiger Elite, you may like the Veritas line. They have some shorter rod options as well.
As compared to Ugly Stik Tiger Elite, the price is a bit higher, as the Veritas does have more of a premium spinning rod feel, especially for their longest rod, but the price is not out of the range of affordability for most fishermen.
They don't quite live up to the light feel of the Ugly Stik for the same sizes, in our opinion, but they have smaller options available.
The titanium alloy guides resist breaking, one of the biggest grievances people have with spinning rods.
They've also put some thought into ensuring a good casting distance with the Veritas.
Whatever they've done, it's working.
We found that it handled well when fishing for crappie, bluegill or other larger fish like Tiger Muskie.
What makes the Abu Garcia Veritas our multi-purpose spinning rod runner up?
Top surf spinning fishing rod
BERRYPRO's Monster Surf spinning rod is a multi-piece rod, unlike our top two rods, which are single-piece construction to provide more durability.
You're going to compromise some strength here, but many fishermen really like the ability to break down a rod to transport a compact item.
Using graphite construction, you do get a nicely sensitive rod with this one.
We didn't find it quite as up to snuff in resisting breaks like the Tiger Elite, but it's still a pretty reliable spinning rod, all in all.
There are no short options for the Monster Surf rod. You can get big, bigger, and huge because they are designed specifically for surf fishing.
But, thanks to that graphite, none of them are overly heavy and burdensome to use.
We found the ceramic coated guide eyes to be a good idea from BERRYPRO. They claim it reduces friction on the line, and we think it does seem to help.
The rod needs more guides, though, to help disperse the line more evenly.
Our biggest grief with the BERRYPRO spinning rod is the reel seat. It isn't as secure as we would like. Attaching the reel is also more of a chore than need be.
Given the price, we don't think that's necessarily a dealbreaker.
Rods this size tend to be much more expensive than the BERRYPRO.
This one is our preferred surf fishing rod thanks to its nice price and toughness.
What makes the BERRYPRO Monster Surf our favorite surf spinning rod?
Surf spinning fishing rod runner up
This one is not the cheapest spinning rod, but the Triumph surf spinning rod from St. Croix certainly is a very nice one.
They back it up with a five-year warranty, so they clearly have confidence in their product.
If the BERRYPRO surf spinning rod wasn't for you, we're pretty happy with St. Croix's Triumph. The higher starting price is the biggest reason it doesn't hold our number one spinning rod slot for surf fishing rods.
Using graphite construction to achieve a lightweight rod with good flexibility and sensitivity, St. Croix goes to some extra measures to ensure their rods don't break.
Their graphite fibers are rated to withstand more strain than most before failing. We like that on a surf rod that will naturally take a little more of a beating.
The Triumph casts far, a necessity for a good surf spinning rod.
It feels good in the hand, with a comfortable cork grip.
Due to the light-weight of the rod, you can easily manage it without suffering from fatigue.
We like the reel seat on the St. Croix Triumph rods. It is a Fuji DPS reel seat, which is nicely versatile and easy to use.
The Triumph spinning rod breaks down to several pieces to travel more easily. We don't think that's a bad thing when we're talking about surf fishing rods, which are very long and cumbersome to travel with.
What makes the St. Croix Triumph Surf our surf spinning rod runner up?
Bargain shoppers, unite!
The Eagle Claw Featherlight spinning rod comes in at a price that makes the tightest of us happy. We were pleasantly surprised by how well the Eagle Claw functioned, considering how inexpensive it is.
No one should think they're getting a top-of-the-line rod, here.
This is our choice for beginners and for making a set up for your children as they graduate from the little combo rod and reels with cartoon characters on them.
We think it feels pretty good in the hand and is extremely light.
The kids can use it to bring in some sunfish, and they'll be perfectly happy with that.
This rod comes in two pieces and is six feet long.
It has decent sensitivity, but we didn't feel that it picked up the lightest bites. For rookies, though, those subtleties come with time anyway. Children, in particular, don't seem to pick up anything but the hardest bites so that they won't miss the reactivity of a better rod.
Eagle Claw gives a cool little feature with the ruler they put on the rod. Why drag out a measuring tape when you can lay your catch alongside the rod that brought it in?
Again, for kids, especially, we think this is a great fit.
They'll love checking out how big their fish is and you can set up a little friendly competition with them.
What makes the Eagle Claw Featherlight the best spinning rod for the money?
Penn's Battalion inshore spinning rod is a good product from a tried-and-true fishing company.
Penn Battalion is made in the USA, and you can choose from several lengths and grades to find exactly the right fit. Many anglers call the Penn Battalion the perfect spinning rod for inshore fishing.
A combination of factors makes this one our favorite inshore spinning rod.
The 100 percent graphite construction results in a very sensitive and flexible one-piece rod. It maintains good strength, though, and isn't prone to breaking.
Penn has chosen Fuji guide eyes and reel seats to keep the quality of their rod high.
The cork handle is nice, and we found it to be very comfortable to hold.
We found that the Penn Battalion has the strength needed for a good hookset, which can be harder with some of the more lightweight rods. You can bring in smaller sharks with it or use it for jigging.
There's a reason Penn is such a trusted name in the fishing world.
They've delivered another good choice that the angler can adapt to suit their exact needs.
There's a little more of an investment required, but we see the Penn Battalion lasting for a very long time.
What makes the Penn Battalion Inshore our favorite inshore spinning rod?
Inshore Spinning Rod Runner Up
Another solid offering from St. Croix, the Mojo inshore spinning rod is our runner-up inshore rod.
Again, due to the higher price, we can't see it in the first place. You can get just as nice of a rod from the Penn for less money down.
If you're a St. Croix loyalist and just have to stick to your favorite brand, you won't be disappointed by the Mojo.
It's a good inshore rod for several reasons, including the use of the same mid-modulus graphite fiber we saw in their Triumph surf rod. If you recall, those fibers reduce breaking by allowing more tension and bend before they reach failure.
Knowing their rods will be out in the salt air, St. Croix uses aluminum-oxide guides that don't corrode easily. Speaking of the guide eyes, we found that they held up well to the pressure of a fish on the line and didn't suffer from friction.
The best feature of St. Croix's rods is just how well they help prevent fatigue. They're lightweight, and the cork handles really are comfortable to hold for long stretches.
You won't feel wiped out after a day of using this rod.
We found hookset to be a breeze with the Mojo. Sensing bites is no problem, thanks to how sensitive the rod is.
The spine is strong enough to hold up to the hookset and to bringing in bigger saltwater fish.
We enjoyed using it.
What makes the St. Croix Mojo Inshore our inshore spinning rod runner up?
The award for most well-thought-out travel set up definitely goes to the Okuma Citrix spinning rod. Maybe it's how small the pieces break down, maybe it's the nifty carrying case, but Okuma has landed in our top spot for travel spinning rod setups.
Okuma uses graphite in their Citrix rod to create a lightweight and sensitive product.
We found that it responds well to bites and gives us all the control we want from our rod.
Even better, unlike some travel rods, we didn't have to fight with the pieces separating during the cast. Of course, paying attention to make sure that nothing is coming loose is always a solid idea with travel rods.
The Citrix travels well, as expected, but this serves it well as both a freshwater and saltwater fishing rod. We found that a good rinse before packing it up after a day at the beach is necessary to prevent corrosion.
The price point on the Okuma Citrix is smack in the range we've seen for our better rods in this lineup.
Considering how small the rod breaks down and its solid performance, we think it's well worth the money.
You get what you pay for, and the Citrix delivers.
What makes the Okuma Citrix Travel our favorite travel spinning rod?
Top Offshore Spinning Rod
If you were hoping for an offshore spinning rod, we have you covered.
Our favorite, the Fiblink saltwater spinning rod is a strong, carbon-fiber rod that comes in at a super reasonable price.
We think it's an especially great spinning fishing rod choice if you don't live near the coast and want a rod that packs easily and doesn't break the bank to enjoy a hobby you can't get to daily.
The foam handle is comfortable, and we found that it reduced fatigue.
The rod casts far and very easily.
If you have kids who are just starting to learn how to offshore fish, the Fliblink is a good rod to practice with. It isn't too heavy to make it difficult for them to use.
Fiblink is good about helping you choose the right rod for the fish you'll be going after.
For us, though, the heavy, seven-foot rod is probably the better choice over the medium-heavy seven-foot rod for offshore fishing.
It will handle thirty to fifty-pound lines and is strong enough to bring in tuna or other fighters.
What makes the Fiblink Saltwater our favorite offshore spinning rod?
Offshore Spinning Rod Runner Up
Shimano is a well-loved fishing brand for a good reason.
Their Trevala spinning rod is our second-favorite offshore rod.
It comes in at quite a bit higher price than the Fliblink rod, however, and we recommend it more for well-seasoned anglers who don't mind investing a good bit of money into their craft.
Shimano has considered every detail when creating their Trevala rod.
Crafted for excellent corrosion resistance and performance.
The guide eyes are sturdy and allow the line to glide smoothly off of them.
Comfy EVA grips let you stay out for the day without suffering from motivation-killing hand cramps.
The Trevala spinning rod is lightweight and sensitive, which we love, of course. Don't let that fool you, though; these rods can be used to bring in monster fish, especially their extra heavy one, which will accommodate up to two-hundred-pound test lines.
You can bring up some large tuna, sharks, and marlin using a line in the range of the eighty to two-hundred-pound test line that it takes.
Overall, we really like Shimano's Trevala rod.
With finesse and experience, you can rely on it during long fights with big fish.
We think it's worth the investment in offshore fishing applications for those who have years of knowledge under their belts.
What makes the Shimano Trevala Spinning Rod our offshore spinning rod runner up?
Don't fret, bass fishers, we would never leave you hanging.
Just for you, we have our top pick for a spinning rod for bass fishing: the St. Croix Mojo Bass spinning rod.
This one features some similar traits as the other St. Croix rods we looked at, but with designs traits tailored specifically to the demands of bass fishing.
High-modulus graphite fibers handle a ton of strain and make the rod ultra-sensitive. This one is super durable, a must-have for bringing up bass, especially if you like competition fishing.
The finished product from St. Croix is lightweight, sleek, and strong.
We like how well it casts, which is one of the main benefits of a spinning rod.
It has a good balance and a comfortable grip.
We have nothing to complain about with the Mojo Bass spinning rod.
The price is exactly what we expect to see from St. Croix. It's a little pricier than some of the other spinning rods we have on our list, but this one is tailor-made for, and is the best finesse spinning rod for bass on this list.
We think it's worth the investment and is a good tool to have at your disposal.
What makes the St. Croix Mojo Bass our favoriate bass spinning rod?
Finding the right spinning fishing rod - general, surf, inshore, offshore, budget & bass
We've seen them all at this point: bargain rods, all-purpose rods, surf, inshore and offshore rods, bass fishing rods, even a travel rod. We think they all have great potential for their different categories and highly recommend them depending on your situation.
If you need a good, all-purpose spinning rod, we would stick with the Tiger Elite by Ugly Stik. They've been there, done that, and know what it takes to make a successful fishing rod. They come in at a great price and can handle a bit of abuse.
For kids and beginners, we like the Eagle Claw Featherlight. It's inexpensive, performs well, and is easy to handle. We think it's a good one for practicing casting and getting a bit more experience under your belt before graduating to more expensive rods.
For our sea-lovers, we have surf, inshore, and offshore spinning rods that we like best.
For surf fishers, we recommend BERRYPRO's rod thanks to the good value for the price.
Inshore, we dig the Penn Battalion. It's a bit less costly, performs great, and isn't so heavy you want to give up.
Finally, our offshore spinning rod favorite has to be the Fiblink. Light, inexpensive, and sturdy, it checks off everything on our list.
We have a couple of oddballs in the roundup, like the Okuma Citrix travel spinning rod and the St. Croix Mojo Bass spinning rod. Both are great at what they do, and we like them for their specialized applications. Do they have a place in your tackle? We think so if you need something that breaks down compactly for travel, or are a bass fishing superstar.
Whatever application you need, we know you'll enjoy the ease of casting one of these spinning rods and find yourself grabbing them time and again.
Enjoy that fresh air and the shine of the sun on the water.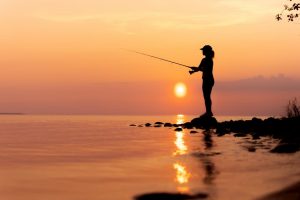 Ugly Stik GX2 Fishing Rod is one of the best value priced fishing rods around. It has great action, lasts forever, and may just be unbreakable. If you're looking for a great fishing rod, you should check this one out.
Read More »