Best Fillet Knife 2022 – 9 Best Fish Knives
Easily eat what you catch with one of the best fillet knives
Catching a load of fish is only half the battle. Now those fish have to be cleaned and prepared so you can eat them. With a good fillet knife, prepping your catch goes smoothly and you'll be eating fresh fish in no time.
A fillet knife is a distinctly shaped knife with a trailing point blade. This means that the point of the knife is higher than the spine, creating a curved belly. The belly of the knife is where the cutting happens and that curved edge makes slicing effortless.
Fillet knives are designed to make quick work of filleting fish. A good one will have a thin, moderately flexible blade and a stout handle. It should be made of a quality stainless steel that will resist pitting and rusting. Your choice of fillet knife will determine how efficiently you can clean a fish, so finding one with these qualities is very important. You'll reduce waste and accomplish the job much more easily.
We have nine great choices for you to help you find a fillet knife that works for you. Whether you're just starting and need to learn it all or are a lifelong fisherman, you're going to want one of these bad boys.
Bubba's tapered fillet knife is our top choice in this line up of the best fillet knives we've picked out.
It's a quality fillet knife for a price that fits any budget. This one hits all the areas of concern we discussed, like rust resistance and blade strength.
They've put a lot of effort into ensuring their knife reduces meat loss when filleting fish and lasts for a long time, even with heavy use in saltwater fishing.
The blade on the Bubba fillet knife is the careful culmination of years of development. These guys wanted a knife that worked for them. There is enough flex to the blade that you can move around bones easily to take as much of the meat as possible when cleaning fish. They were careful to retain enough rigidity in the Flex blade, though, that the blade stays sharp and can handle cutting through fish bones and thicker meats than their Ultra Flex.
The titanium-nitride coating on the blade is why it lasts so long. This coating protects the steel from corroding in the saltiest conditions. The seven-inch blade is perfect for cleaning most fish for the frying pan.
The handle on the Bubba Flex fillet knife has a secure grip which is critical to safe knife handling.
Their non-slip knife handle is their signature feature. It has a textured grip that helps you hold on while handling that wet, slimy fish.
They stand behind their handle so much that they took out a patent on it.
Why is The Bubba Tapered Flex Is Our Favorite Fillet Knife?
Weight: Around 11 ounces 
Overall length: 13″ or 15″
Blade length: 7″ or 9″
Composition: Stainless-steel with titanium-nitride coating
With more than 30 years in the cutlery industry, Mercer has a solid fillet knife that you can trust. If the price on the Bubba knife was more than you wanted to spend, you may find a friend in the Mercer fillet knife.
A limited lifetime warranty backs up this knife.
It's a lightweight, relatively ergonomic knife. The eight-inch blade is rather long for ease of use on most catches that only require a six or seven-inch blade.
The blade is made of Japanese stainless steel and resists rusting and pitting.
The edge of this knife does require sharpening to maintain the edge.  This should be done before or after filleting to help maintain the blade and prevent injury.
There is low flexibility in the Mercer's blade, so you may find more meat loss than with some other knives.
The handle of the Mercer knife is a pretty standard black polypropylene and Santoprene. Santoprene is a rubber-like plastic that is inexpensive to produce.
There are textured points on the handle to try to help improve the grippiness. The handle is not as comfortable to hold as some others, but it can be cleaned and disinfected easily, which is appealing.
What makes this knife stand out
Weight: Around 2.88 ounces
Overall length: 13″
Blade length: 8″
Composition: Japanese stainless-steel 
Premium Design Fillet Knife
The award for the coolest knife on the list definitely goes to Dalstrong's Shadow Black series fillet knife. If you're looking for a knife that's equal parts tool and statement piece, you'd better go with the Dalstrong.
This knife isn't all looks, it does have a good edge and will slice fish well. Even so, it isn't our favorite fillet knife because it doesn't have quite enough flexibility to minimize waste.
The Dalstrong fillet knife has a truly sharp blade and a nicely curved belly for smooth cutting. The same titanium-nitride coating as the Bubba knife helps it to maintain its quality for a long time.
The best feature of the Dalstrong blade is the sleek black finish on the six-inch blade. Unfortunately, that coating can be damaged by use out on the shoreline, especially from saltwater. This one is better kept in the kitchen.
As far as handles go, Dalstrong does have a neat concept. It is constructed from a military-grade G10 resin that offers great grip and control.
The handle encompasses a full tang and is truly ergonomic to use.
They considered how quickly your hand can become fatigued when using knives and planned accordingly. If you've brought in a serious catch, you'll appreciate that when you're a half a dozen fish in.
What makes this knife stand out
Weight: 15.2 ounces
Overall length: 11.59″
Blade length: 6″
Composition: high Carbon -7CR17MOV-X vacuum treated steel
Unlike the Dalstrong knife, Titan Forge's fillet knife is a clean, no-frills approach. They want their products to work well for you out on a camping trip or in the kitchen.
The knife uses high-carbon steel in a full tang and a crevice-free handle to make a very easily disinfected knife that helps prevent foodborne illness.
Titan Forge backs it all up with a lifetime warranty against defects and it comes in at a pretty good price.
The six-inch blade is the ideal length for filleting most panfish like crappie.
Titan Forge's fillet knife features an incredibly sharp blade that is angled to fourteen to fifteen degrees on each side. You can glide almost effortlessly through most lightweight fish.
Each blade is hand polished after honing and heat-treating to give it a hardness level that helps prevent breaking.
A full tang balances the knife nicely and is made from the same piece of rust-resistant steel as the blade.
The handle on the Titan Forge fillet knife is a very simple black plastic compound handle. They have dubbed it the Citrus handle. You can disinfect and clean it with ease and it is directly molded to each tang so that there are no gaps for bacteria to work under and cause problems.
An anti-slip grip and ergonomic design help you get through the work of filleting several fish before your hand cramps and gives out.
What makes this knife stand out
Weight: Around 4.2 ounces
Overall length: 12″
Blade length: 6″
Composition: 7CR17MOV high-carbon steel
Embodying the idea of quality Swiss knives, the Victorinox fillet knife is a timeless, functional option. The strong stainless steel blade is rather flexible, which can be a good or bad thing, depending on the fish you're processing.
You probably want to restrict the use of this Victorinox knife to smaller fish with thinner fillets. You can easily go along the bones of the fish with this one and it skins fish well, but you may find it difficult to cut through bones.
The blade of the Victorinox fillet knife is the usual trailing edge made of stainless steel. It doesn't rust easily and maintains its edge well.
The lack of a sheath is a bummer, so you'll need to buy a generic one for it or be careful while toting it around.
It is very sharp, especially if you maintain it well.
Overall, the blade is pretty good quality, unsurprisingly, since these guys are the makers of the original Swiss Army knife.
A standard plastic handle on the Victorinox – they call it the Fibrox handle – provides good grip and easy sanitation.
While there's nothing particularly special about the Fibrox handle, it does have a good feel and lasts for a long time.
It is fairly ergonomic and allows you to fillet several fish without feeling the burn.
There's also enough of a grippy texture to the handle that you can maintain your hold after dealing with wet fish.
What makes this knife stand out
Weight: Around 4 ounces
Overall length: 14.9″
Blade length: 7″
Composition: Stainless steel
If you liked the other Dalstrong on our list, you're sure to like this shogun-style fillet knife as well. Just as we'd expect from Dalstrong, they have a beautifully designed product that delivers great style and efficacy. You'll have to pay for that beauty, though.
This top fillet knife is certainly not the cheapest in our line-up. Don't be too worried about the price if you just have to have this knife, they offer a full money-back guarantee if you aren't completely stoked with your purchase.
The blade is wickedly sharp and hand-polished. Each side has an angle of eight to twelve degrees. There isn't much you won't be able to cut through with it.
Dalstrong has done very well making a pretty knife that holds its edge well and is strong. Don't expect it to flex well. There's just not much give to the blade. You're better off reserving it for sturdier fish with thick flesh, but the six-inch blade may give you some difficulty in treating them.
That same G-10 resin that is used on the Black series fillet knife is utilized here as well. Dalstrong doesn't like to fix what isn't broken.
The grip and contouring their handles have is very good and gives you some security during use.
It has a very classic look and feel to it that matches the knife very well.
The copper mosaic on the handle is a beautiful touch and adds something special to the knife.
What makes this knife stand out
Weight: Around 6.4 ounces
Overall length: 10.7″
Blade length: 6″
Composition: AUS-10V Japanese super steel
This knife from Elk Ridge is the quintessential fillet knife. Your grandfather probably had a couple just like it. You'll recognize everything about it from the leather sheath to the long, skinny stainless steel blade that comes to an almost exaggeratedly sharp point.
You don't really get a more classic fillet knife than this one, and it's not a bad choice if you want to gift an inexpensive knife to someone just starting out.
The seven-inch blade is nicely flexible, making it good for filleting most fish. It doesn't come with an especially sharp edge and it has to be sharpened and honed often.
You aren't getting the best quality stainless steel on the market, but it will last pretty well with proper care. It has moderate rust resistance so you will need to clean it promptly after use.
Elk Ridge put a simulated bone handle on their fillet knife for a very timeless look. Unfortunately, that look comes at the cost of grippiness.
After handling a slime-covered fish, the handle can become rather slick. With careful attention to your cleanliness while cleaning fish, however, you can safely get through the job.
If you're working on cleaning several fish you may find yourself with an aching, uncomfortable hand – the handle is not especially comfortable for prolonged use.
What makes this knife stand out
Weight: Around 8 ounces
Overall length: 12.9″
Blade length: 7.5″
Composition: 440 Stainless Steel
German steel is a thing of legend due to its ability to hold an edge and put in serious work in the kitchen. With this in mind, KastKing's fillet knife is a great choice for heavy use, even in saltwater conditions. It is the most comparable to our favorite, the Bubba fillet knife.
KastKing has made a versatile and durable tool for avid fishermen. The look and feel of this knife are great, everything has a modern, updated feel to the typical knife. The price is also pretty good, well within the affordable range.
As we mentioned, the blade on the KastKing fillet knife is made of German stainless steel. German steel has a lower carbon level than Japanese steel which means it is a bit softer and more durable. This also means the edge can't be sharpened to quite as dramatic an angle. You'll still find this one more than sufficient for cutting even delicate fish.
That said, it isn't difficult to remove scales, skin, or cut through bones with the KastKing fillet knife. The steel used continues to resist pitting and rust in marine settings.
You get a plastic knife sheath with your knife that helps keep your blade sharp and you safe.
The best feature of the KastKing fillet knife is actually its super-comfortable handle. The polymer grip is non-slip and they mean it.
Even with slime, water, and blood on your hands, you won't lose your hold on this knife. With that control, you can safely make cuts and get the job done without having to stop frequently to wash and dry your hands.
The grip isn't only secure, it's also ergonomic and comfortable to use for a long duration. They're easy to clean up which is essential for food safety.
What makes this knife stand out
Weight: Around 6.4 – 8.8 ounces
Overall length: 11.8″, 12.8″, & 14.8
Blade length: 6", 7", & 9"
Composition: G4116 German Stainless-Steel
The Buck fillet knife is the only folding one in this list.  If you need a space saver, It's the best fillet knife we could find with this really nice feature.
The Buck family has paid attention to the needs of outdoorsmen when crafting their knives. The folding knife is very functional, even away from modern conveniences in the kitchen.
It has good corrosion resistance, is flexible, and has a lanyard attached to help prevent you from losing your knife. There's a lot to like about the Buck fillet knife and it makes a solid choice for camping trips.
The blade on the Buck knife is made of heat-treated, titanium-coated stainless steel. It holds up well if you do a lot of saltwater fishing. It is not an especially hard knife, so you can easily put an edge on the knife when you sharpen it.
The folding blade may concern some users, but it locks when you open it to prevent injuries. That said, this knife is not for hewing through thick bones.
You want to be careful when using any folding blade to ensure you don't accidentally flip it closed during use.
As for the handle, Buck's folding fillet knife is made of glass-reinforced polypropylene with rubber grips. The security of your handhold is actually pretty good. You don't experience slipping even with damp hands.
There's a stainless steel guard to protect your hands in case of an accidental slip. The groove for the blade to fit into when the knife is closed holds it securely. You won't find your knife unintentionally opening and causing a dangerous situation.
What makes this knife stand out
Weight: Around 6.7 Ounces
Overall length: 14.12″
Blade length: 6.5″
Closed length: 7.6″
Composition: Titanium-coated stainless steel
Picking your new fillet knife
We've gone over several of the top fillet knives, like the KastKing, Victorinox, and Dalstrong fillet knives.
For us, only one really takes the cake: the Bubba Flex fillet knife.
While the Dalstrong knives we featured are beautiful tools, their price point is prohibitive for many buyers. They also fail to offer the flexibility needed to make close cuts when filleting fish, something the Bubba knife excels at.
There are a few more affordable options that we looked at, particularly the fillet knives from Elk Ridge and Mercer. If you rarely need a fillet fishing knife, you may be tempted to choose one of these two. While either is a decent choice for little use, Bubba's Flex fillet knife comes in only a little higher than the Mercer with a proven history of durability and function.
Even if you only occasionally use your knife, the Bubba offers everything you need to use it safely and effectively.
The most important thing is that you get outside and enjoy life.
Finding the right tool to make the job of cleaning your catch easier just makes it that much more likely that you'll do that.
The Flex fillet knife from Bubba is industry proven to hold up and function incredibly well in the harshest conditions.
Grab one for yourself and get out there on the water!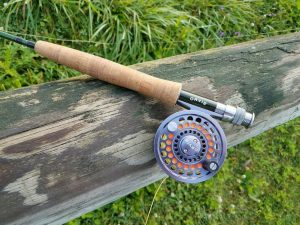 Ready to get started with fly fishing? The Orvis Clearwater fly fishing outfit is a great budget conscious rod and reel. Check out our review and see if this is the right fly fishing gear for you.
Read More »